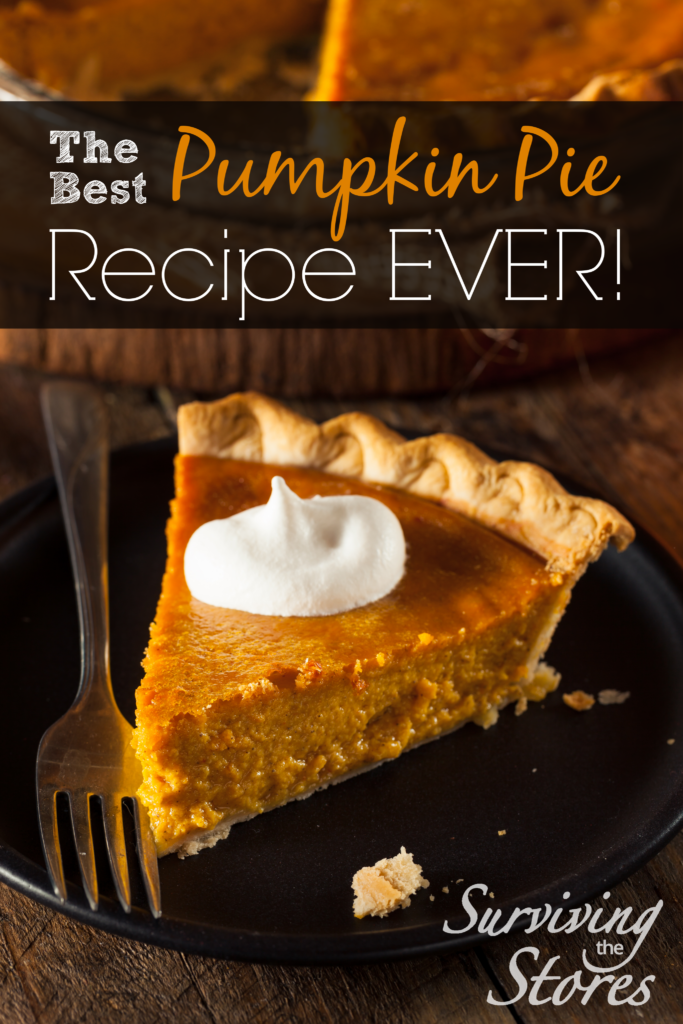 The BEST Homemade Pumpkin Pie Recipe!
One of my favorite things to make in the fall is pumpkin pie. I've tried the store-bought versions and they really just don't hold a candle to homemade. AT ALL.
When I was newly married and wanted to make it myself, I asked my mom for the secret recipe, assuming that anything that tasted that amazing had to be a family secret. And can you guess what she told me? (Probably the same thing that many of our mothers said). "The recipe is on the back of the Libby's canned pumpkin can."
Really? THE best pumpkin pie that I have ever tasted comes from a recipe on the back of a can?!
I have modified it a tad (added extra spice) and added in how to make this recipe by using fresh pumpkin instead of canned (it's still easy and just takes a few extra steps)!
***If you still have some shopping to do this holiday season be sure to check out the best deals available today on Amazon Black Friday Countdown for great gift ideas on toys, electronics, clothing, outdoor, and more!***
My youngest has a milk allergy, so I use coconut milk instead of the evaporated milk that the recipe calls for. And even Ryan, who swears that he HATES coconut, loved it with the coconut milk! I've put both options in the recipe below, so just use whatever works for your family.
Now that we are grain-free we have our pumpkin pie without a crust, but it still tastes just as great!

The BEST Homemade Pumpkin Pie Recipe!
Author:
Rachel @ Surviving The Stores
Ingredients
⅔ - ¾ cup sugar or Succanat® Sugar (I like it a little less sweet with the ⅔ cup, but the official Libby's recipe calls for ¾ cup)
½ tsp. salt
1 tsp. ground cinnamon (I add about another ½ tsp. to it)
½ tsp. ground ginger
¼ tsp. ground cloves
2-3 eggs (the official recipe calls for 2 eggs, but I like the extra protein of adding more)
1 can (12 fl oz) Evaporated Milk OR 1½ cups of whole coconut (or other nut) milk
1 unbaked deep-dish pie shell (although I love it without a crust too)
Instructions
Preheat the over to 425ºF.
Mix the eggs, pumpkin, sugar, salt, and spices in a large bowl or mixer until well-blended.
Slowly stir in the evaporated milk or milk substitute.
Pour mixture into the unbaked pie shell.
Bake in the preheated oven for 15 minutes.
Without opening the oven, reduce the oven temperature to 350ºF and bake another 40-50. If you think it's done, insert a knife into the center and if it comes out clean then it's done!
Cool on a rack for a couple of hours and serve or cover and refrigerate. Be sure the pie plate has completely cooled before putting it into the refrigerator!
Other recipes you might like:
Homemade Cornbread Stuffing/Dressing
Homemade & Healthy Green Bean Casserole
Sweet Potato Casserole with Crumb Topping
How To Cook A Whole Pumpkin In The Oven