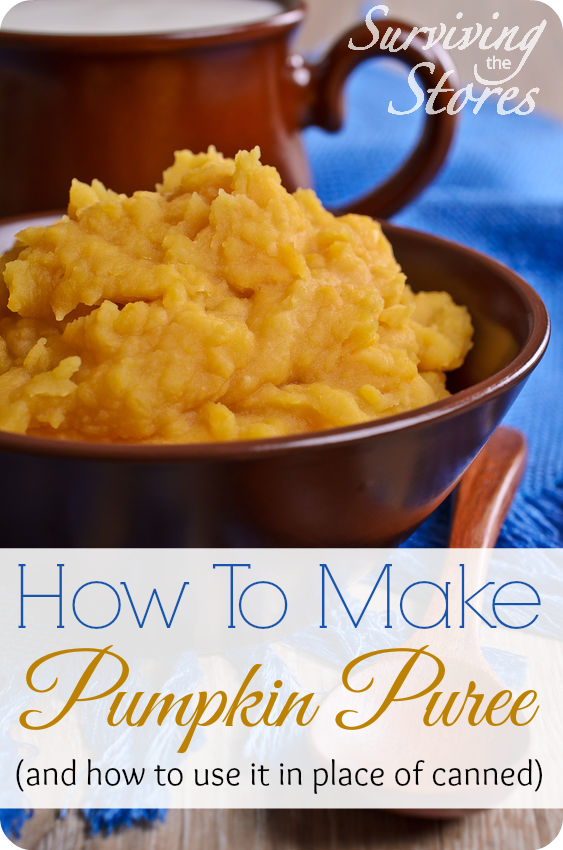 It is so incredibly easy to make your own pumpkin puree instead of buying it in cans at the store.
Just buy a pie pumpkin (one of the smaller ones) and cook it using your preferred method. I prefer cooking my pumpkins whole in the oven.
Once your pumpkin is cooked through, cut it in half and scoop out the seeds (put them to the side to make roasted pumpkin seeds later!), scoop out the remaining pumpkin pulp, and then use a food processor or Vitamix to puree the pulp.
I'm a fairly lazy cook, so I just use my pumpkin puree as is and use less of other liquids in the recipe. But if you would prefer the consistency to be more like canned pumpkin, then just place a cheesecloth over a mesh strainer, and pour the pumpkin puree in the cheesecloth. Allow the puree to sit for about an hour, and then use it like you would use puree from the can.
A 3 lb. pie pumpkin should give you around 2 cups of puree, which is just a tad more than the 15 ounces in a can.
So now what do you do with this pumpkin puree?
I turned to my favorite recipe search engine, PINTEREST, to find lots of amazing recipes using pumpkin puree!
I tried to have a mix of dessert and non-dessert recipes, but it *might* be a little dessert heavy. 🙂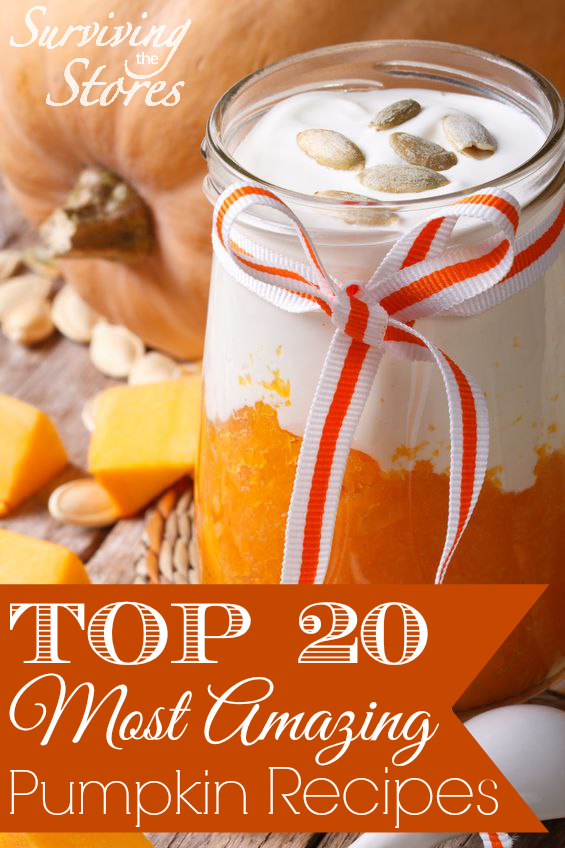 Just click on the pin below to go to the blog or website for all of the directions!
1. Baked Pumpkin Donuts
2. Pumpkin Pie Tortilla Rolls
3. Pumpkin Upside Down Cake</strong<
4. Pumpkin Hummus Dip
5. Pumpkin Custard
6. Curried Vegetable Stew
7. Pumpkin Mac & Cheese
8. Slow Cooker Pumpkin Butter
9. Pumpkin Cookies with Caramel Frosting
10. Pumpkin Cobbler
11. Pumpkin Waffles
12. Pumpkin Spices Latte Cake
13. Pumpkin Churro Cake
14. GLUTEN-FREE Pumpkin Donut Holes
15. Homemade Pumpkin Gnocchi
16. Grain-Free Pumpkin Spice Bread
17. Pumpkin Pie Larabars
18. Pumpkin Fudge Balls
19. Pumpkin Spice Glazed Loaf
20. Paleo Pumpkin Tortillas
Ok, who else is hungry now?!
Want more recipe ideas? Follow me on Pinterest below!