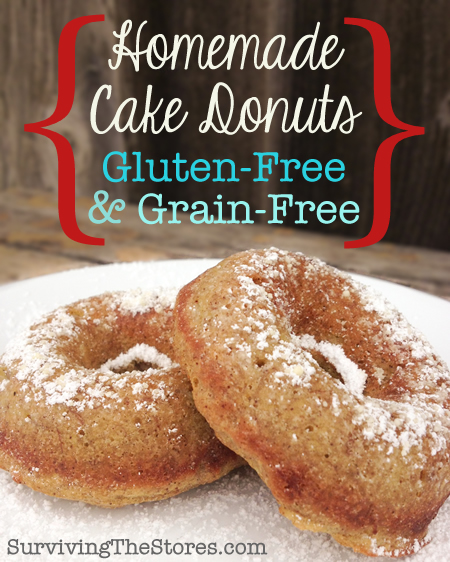 Ryan and I are still going strong in our new grain-free lifestyle. It has been life-changing and while a year ago (even a few months ago) I would've said that I couldn't imagine not eating wheat, now I can't imagine going back to eating wheat again.
When we took our allergy tests (keep in mind that these were "alternative" allergy tests – no huge squares of needles in my back like I had to do in 4th grade) we both showed being very sensitive to wheat, rice, corn, AND potatoes so that meant that even the gluten-free items at the store wouldn't work for us.
We went through a few weeks of not really knowing what to eat (eggs for breakfast, salads for lunch, meat and veggies for dinner pretty much every day) but then we found out about this miracle ingredient called coconut flour.
Coconut flour is very low-carb, it's 58% fiber, can handle high temperatures, low on the glycemic index scale, and high in protein!
AND you can use it to make just about anything that you would have used regular flour for… including DONUTS!
You can use this basic donut recipe and add just about any fruit if you would like it to have a fruity flavor.

Homemade GRAIN-FREE Cake Donuts Recipe!!
Author:
Rachel @ Surviving The Stores
Ingredients
1 cup coconut flour
½ tsp. baking soda
½ tsp. sea salt
12 eggs (if you can't use eggs then you can try flax "eggs")
¾ cup of honey or other sweetener (honey, raw sugar, maple syrup, any would work)
2 Tbsp. homemade vanilla extract
½ cup (1 stick) unsalted butter
½ cup organic coconut oil
2 bananas, mashed (you don't HAVE to add the bananas and it still tastes good without them, but the donuts are much moister with the bananas. If your bananas are still green, click HERE to learn how to ripen bananas for baking in 10 minutes!)
Instructions
Preheat your oven to 350˚.
Melt the butter and coconut oil in the microwave or on the stove.
Mix all of the wet ingredients in one bowl and all of the dry ingredients in another bowl.
Pour the wet mixture into the dry mixture and mix well.
Use coconut oil to grease your donut pan VERY WELL. When I didn't put a lot of coconut oil in the bottom AND on the sides of the pan then the donuts would stick.
Fill up the greased donut pan sections about ¾ of the way full.
Bake at 350˚ for 18-22 minutes.
Serve with powdered sugar, coconut flakes, maple syrup, or any other toppings that you can think of!
This recipe makes about 14-16 donuts.
If you're looking for a good-quality coconut flour to buy, we love the Bob's Red Mill coconut flour and the price is the best one around (also, keep in mind that you use MUCH less coconut flour that you would regular flour since it absorbs so much liquid).
Also, if you are looking for donut pans, this is the one that I use: