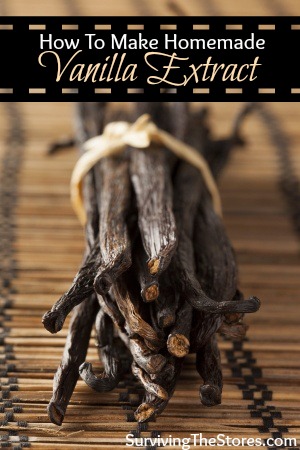 I'm not quite sure what I thought extracting vanilla would entail, but in my head it definitely sounded much more complicated than it actually is! Making homemade vanilla extract is super easy and I really wish that I would've started this sooner!
I took some advice on making it from this post on homemade vanilla extract, this video on making vanilla extract, and our local organic farmer friend who suggested using Brandy instead of Vodka.  I admit, I did feel a *little* strange going into the liquor store and asking "Do you know what the best Vodka would be to make vanilla extract?"  I'm sure they laughed at me as I was walking out the door.
I decided to try making Vanilla Extract with both Vodka and Brandy to see which one I like better (here's the update!)  I got mixed opinions from the articles that I read online, so I'll just see for myself.  🙂
Are you ready?  This is so easy!
What you need:
Vanilla Beans!  You can buy vanilla beans here.
Vodka, Brandy, or whatever type of other liquor you would like to use
What you do:
Take the vanilla beans out of the package and cut them lengthwise.  I cut down the center and left it together at the ends so that it would be easier to put into the bottles.  I used 14 beans for the Vodka (750 mL) and 8 beans for the Brandy (375 mL).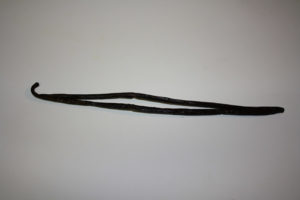 Pour a little bit of the Vodka or Brandy into a measuring cup so that it doesn't overflow when you add the vanilla beans in.  Then place the vanilla beans into the bottle.

Pour as much of the liquor that's in the measuring cup as you are able to back into the bottle and then close it.

Let sit in a cabinet for about 2 months or until it smells like vanilla extract and the liquor has turned dark.
I'm super excited about this because now I know what I'll be making for Christmas presents this next year!
You can find a GREAT deal on labels for your vanilla extract bottles here!

Here's the cost breakdown for this project:
Vanilla Beans – $9.02 (I used 22 beans at 41¢ each)
Vodka – $18.99 for 750 mL
Brandy – $6.99 for 375 mL
—————————–
Total spent – $35
That's $35 for 1,125 mL, or 38 ounces of Pure Vanilla Extract (92¢ per ounce).
NOTE: If you buy less expensive Vodka then you can get your price per ounce much lower.
As a price comparison, the McCormick Vanilla Extract at my local Walmart is $2.88 for 1 ounce ($4.88 for 2 ounces).
This is a much better deal for me, and, well, it's just fun to make it myself!! 🙂