I mentioned on Facebook a couple of weeks ago that I was trying out a new chicken nuggets recipe and I would post it if it turned out good. Well, it turned out GREAT so here it is!!
I tried this two different times and the second time I added some olive oil to the bread crumb mixture to see if it would crisp without spraying with olive oil. It didn't seem like it made a difference, so I'll just continue spraying instead of adding it into the bread crumb mixture.
Oh, and did you guys know that ALL of the bread crumb mixtures at the store have partially hydrogenated oil in them?? At least it's easy to make homemade Italian bread crumbs !
Here's what you need:
For the breadcrumbs:
About 6 slices of toasted bread
Garlic Powder
Onion Powder
Italian Seasoning
Any other seasoning you want to add in there
Sorry I don't have measurements on these… I just guess each time how much to put in.
For the Chicken Nuggets:
1 – 2 lbs. of chicken (I used Boneless Skinless Chicken Breasts from Zaycon Foods)
2 eggs, mixed well
Breadcrumbs (regular or Italian… just whatever you're in the mood for)
Spray Olive Oil (or any other kind of oil you want to use)
Here's how to make it:
1. Put all of the breadcrumb ingredients into a food processor and turn it on! You can also do this step by hand if you let your toast become really dry. Just put the breadcrumbs in a ziploc bag and go over the bag with a rolling pin.
2. Cut up your chicken into small, bite sized pieces (nugget-sized).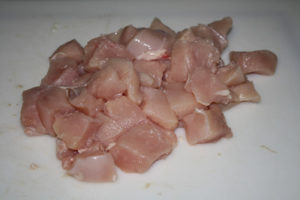 3. Set up your workstation. You want the chicken on one side, then the eggs, then the breadcrumbs, and then the cookie sheet that they will all go on. I recommend spraying your tray with the oil before you put the nuggets on there too.

4. Dip the pieces of chicken, one at a time, into the eggs and then into the breadcrumb mixture. Place the pieces onto the cookie sheet.

5. Spray with the oil and bake in a 400 degree oven for about 20 minutes.

6. ENJOY!!
A few other ideas that I saw while I was looking for a good recipe were:
Instead of the eggs, dip the chicken in melted butter before the breadcrumbs
Add Parmesan Cheese to the breadcrumb mixture before putting it on the chicken
Instead of eggs, dip the chicken in a mixture of dijon mustard and mayonnaise
Use Panko breadcrumbs (I found them in the bulk food section of Whole Foods)
Use crushed cereal instead of breadcrumbs
**To print this recipe without all of the pictures, just click on the "Print PDF" icon below the post**
I'd love to hear your ideas too! Any other ideas you would add?