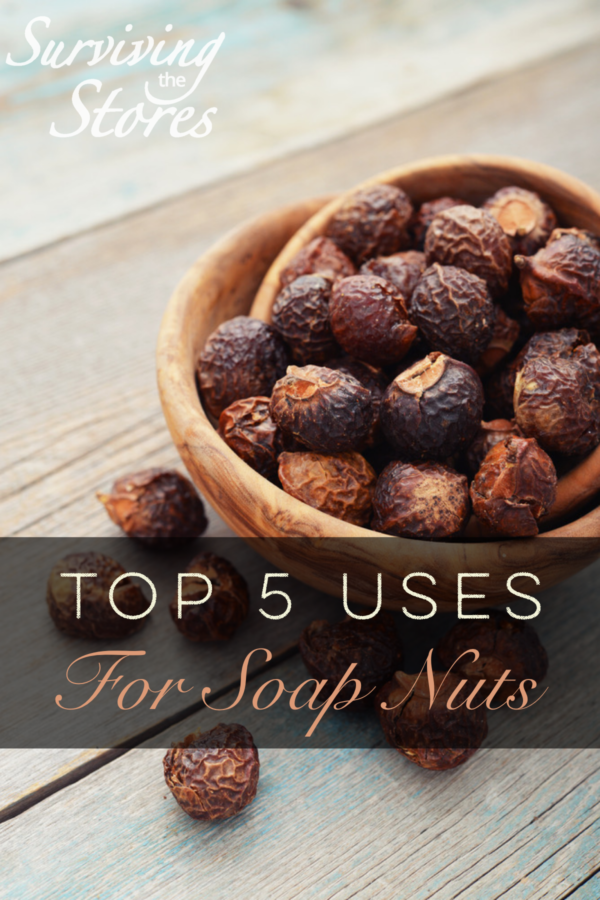 Have you heard of soap nuts? I hadn't until a couple of years ago.
There's a genus of plants called Sapindus that creates a fruit that can be used as soap! And HAS been used as soap much much longer than Dial, Softsoap, and Tide have been around.
And guess what? These little fruit pods called Soapnuts are MUCH less expensive than any of those name brands anyway! And by "MUCH less expensive", I really mean MUCH less expensive!
They are about 10¢ each, and just 10 of them will make enough soap nut liquid to last you a while! Then you can use that soap nut liquid for all kinds of things like shampoo, body wash, toothpaste, laundry detergent, & cleaning!
Here's how to make the soap nut liquid:
Put about 10 soap nuts in a small cloth drawstring bag and tie it closed (typically a drawstring bag comes with your order of soap nuts). Then put the bag into 8 cups of boiling water. Boil for around 20-30 minutes until it makes a semi-thick liquid (it should be a cloudy yellowish-brown color).
And that's it. Yep. Now you have soap nut liquid… for only around $1.
So what can you do with this soap nut liquid?
Shampoo
Have you priced organic shampoo lately?? $25 per bottle or MORE?
Here's how I make organic shampoo for A LOT less!
I like to add to my plain soap nut liquid a little bit of lavender essential oil (you only need ONE drop since the oil I linked to is so strong) and a drop of Citrus Fresh essential oil blend (to keep it fresh)
Then use just a LITTLE bit of it on your hair. If your hair is especially dirty, you can also use some baking soda mixed with the soap nut liquid.
Follow it with either apple cider vinegar (which is super helpful if you have any dandruff issues), or a little bit of coconut oil.
Body Wash
Same recipe mixture as above, just use it like you would any other body wash. Again, you don't need much, and while it won't foam up like regular body wash, it does the job!
I would also recommend using coconut oil or olive oil to re-moisturize your skin afterwards.
Toothpaste
You can forgo the lavender oil for this one. Just mix the following together right before you brush:
1/8 tsp. soap nut liquid
1/8 tsp. baking soda
1 drop of your favorite essential oil
I'm happy with just that recipe above, but some people prefer to sweeten it with a little Xylitol, or add a little bit of vegetable glycerin. I'd prefer to keep my costs low and use as few ingredients as possible.
Laundry Detergent
Use the same mixture that you made for the Shampoo or Body Wash and use a couple of Tablespoons instead of your regular laundry detergent! Your clothes come out super soft, but if you want to add some white distilled vinegar in the rinse cycle, then that also acts as a fabric softener too.
And I love it that my clothes smell like lavender & citrus!
NOTE: You still will need to pretreat your clothes for any stains! And, from what I've heard from others, soap nuts do not work very well for cloth diapering.
Household Cleaning
Take a couple of Tablespoons of your soap nut liquid and add it to a spray bottle along with water. You can also put a little bit of vinegar in there too to help kill bacteria. Then use it on your countertops & table like you would any other cleaner!
Mix it with some baking soda to use while cleaning the bathroom, or any other area that needs some extra cleaning power.
You can buy great quality soap nuts from several different online retailers over at Amazon!!
Follow my Essential Oils Pinterest board below!
Follow Rachel @ SurvivingTheStores.com's board How To Use Essential Oils! on Pinterest.