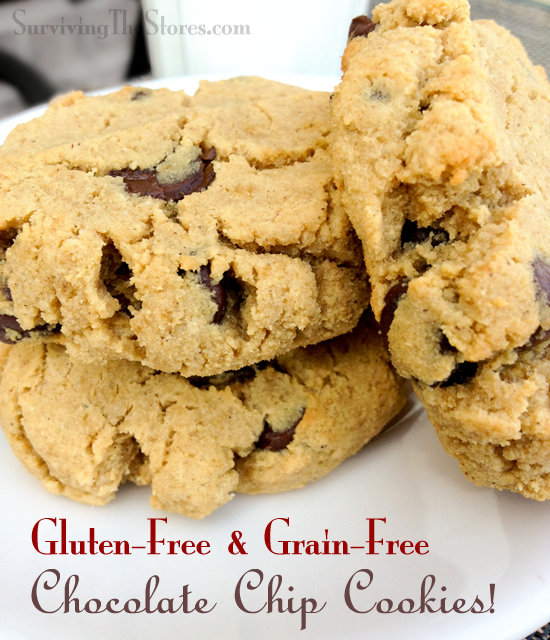 I've been doing pretty well with this whole grain-free thing, but one thing that I've really missed are occasional sweets! I've gotten the hang of cooking meals with no grains, but I'm just now getting the hang of the dessert part of a grain-free lifestyle. I've been wanting to make some grain-free chocolate chip cookies and so decided to try to figure out how to make some this past Saturday.
I looked around on google for coconut flour chocolate chip cookies and didn't find anything that I was completely thrilled about (and that I had all of the ingredients for), so I came up with my own recipe and it actually turned out really well!!
Here's how I made them…

Gluten-Free, Grain-Free Coconut Flour Chocolate Chip Cookies!
Author:
Rachel @ Surviving The Stores
Ingredients
1 cup coconut flour
½ tsp. baking powder
¼ tsp. baking soda
⅓ cup sugar (I used sucanat, but you can use honey or regular sugar)
1 tsp. ground cinnamon (optional)
5 eggs
½ cup of coconut oil or butter (I used half butter and half coconut oil)
2 tsp. vanilla extract (I used my homemade vanilla extract)
A lot of chocolate chips
Possibly a little extra water if the dough needs any extra moisture
Instructions
Preheat your oven to 350˚.
Mix all of the dry ingredients together in a mixing bowl.
Melt the butter and coconut oil and add to the eggs and vanilla in a separate bowl. Mix well.
Pour the liquid mixture into the dry mix and mix until a nice dough forms.
Add the chocolate chips and mix thoroughly.
If any extra moisture is needed, add a SMALL amount of water at a time (1 tsp.) and continue mixing.
Grab medium chunks of cookie dough, roll them into balls, and place on a cookie sheet lined with parchment paper.
Flatten the cookies to about ¼ inch thick and seal up the edges to make the circles look nicer.
Bake at 350˚ for 13-15 minutes.
Cool the cookies on the cookie sheet and serve!
Interested in learning more about using coconut? Check out my other coconut posts below: