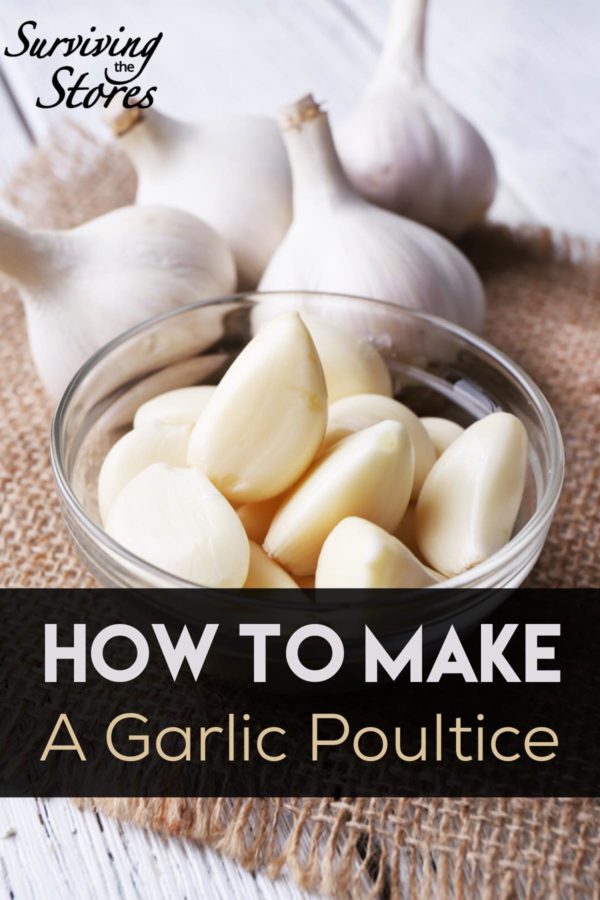 One of the natural remedies that I use when someone in my family is sick is garlic! Garlic is known to have strong antibacterial, antiviral, and antifungal properties… and there are no known side effects (other than smelling like garlic!) 🙂
The most used garlic remedy in our household is a garlic poultice. It's super easy to make and very effective! We use it on everyone (babies and adults) and it has helped to reduce fevers and to get rid of coughs & congestion.
Here's how to make one:
Get a few paper towels or a cheesecloth and lay it on the counter.

Crush or mince a few cloves of garlic into the middle of the paper towel or cheesecloth.

Fold the paper towel or cheesecloth to cover the garlic area.

Get the paper towel or cheesecloth wet with hot water (but NOT boiling).
Then put the wet garlic poultice on whatever area is bothering you. For example, if you have a cough/congestion then you would put it on your chest. You can also put it on the bottoms of your feet if the smell bothers you. Just make sure you don't leave it on too long (more than around 90 seconds) because garlic can eventually cause burns since it's so strong.
Do you use garlic when your family is sick? What are some other ways you've found garlic to be helpful?
Join us on Pinterest & Facebook for more Natural Remedies & Healthy Living Tips!
Follow Rachel Holland SurvivingTheStores.com's board Natural Remedies & Healthy Living! on Pinterest.


Related posts:
How To Get Rid Of A Sinus Infection
Disclaimer: The information on this site is not intended or implied to be a substitute for professional medical advice, diagnosis or treatment. Please confirm any information obtained from or through this web site with other sources, and review all information regarding any medical condition or treatment with your physician. Never disregard professional medical advice or delay seeking medical treatment because of something you have read on this website. This information is not intended to diagnose, treat, or cure any disease.