I was so excited when my friend Crystal showed me this post over at Passionate Homemaking on how to make coconut oil deodorant!! I've been using Tom's of Maine for a while now, but that stuff is seriously expensive. I definitely think Tom's of Maine is one of the best options out there for store-bought deodorant, but if I can make it myself for practically nothing…. well, I'd rather do that! 🙂
I know a lot of you guys are concerned (like I am) with the aluminum that's in most underarm products on the market today. While there are conflicting viewpoints on the research, the concern remains the same and honestly I'd just rather not take any chances.
In my opinion, the coconut oil deodorant has worked great since I've been using it and I plan on continuing to use it from now on. And the best part? It's SUPER easy to make!
(NOTE: Keep in mind that the following recipe is NOT an anti-perspirant.)
You can put the finished product into a jar and apply it with your fingers, but I had tons of deodorant in my linen closet (only bought because they were money-makers) so I took the aluminum-filled stuff out and put the coconut oil deodorant in instead. 🙂
Here's what you need: (modified from Passionate Homemaking's recipe)
5 Tbsp. of Coconut Oil (I used the Nutiva Organic Extra Virgin Coconut Oil)
1/4 – 3/8 cup of Baking Soda (the original recipe calls for 1/4 cup but I ended up needing 3/8 cup to get it to the right consistency)
1/4 – 3/8 cup of Cornstarch (you can also use Arrowroot powder, but I didn't have any on hand)
Essential oils
Here's what you do:
1. Empty out your deodorant containers (if this is the way you want to store it). I twisted the deodorant all the way to the top and then scraped it off with a knife. It came off very easily. Then screw the plastic part back down.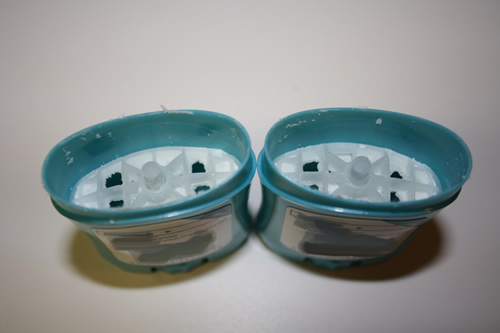 2. Put the Baking Soda and Cornstarch (or Arrowroot) in a bowl and mix. Then add the coconut oil and any essential oils that you want to go in there.

3. Mix thoroughly until it becomes a paste. You can add more baking soda and cornstarch in equal amounts if it doesn't seem thick enough to you.

4. Using a spoon or spatula, put the coconut oil mixture into the empty deodorant cases. Clean off the rims (they will get messy as you can see in the picture below) and then put the lids back on to store. I totally expected it to only make enough for those two travel size cases, but I ended up having to get another trial sized container and two full-size containers to hold it all! This should last us for a LONG time!

5. Apply like you would any deodorant.
Since I live in Texas and it gets MEGA hot here in the summer, I decided to store my containers in the refrigerator. Coconut oil turns to liquid when it gets above 76 degrees, and our house easily reaches that during the summer. If you live in a different area of the country where it doesn't get as hot then you might be able to just store it in a cabinet.
So, what do you think? Do you think I'm completely nuts? Have any of you guys made homemade deodorant before? Feel free to post any different recipes or tips in the comment section below!
Coconut oil is a staple ingredient in our house. I use it for deodorant, dry skin, and homemade tortillas (works much better than Olive Oil for a shortening-free option)! Plus, it regularly goes on sale on Amazon with the subscribe & save option!
Follow my Essential Oils Pinterest board below!
Follow Rachel @ SurvivingTheStores.com's board How To Use Essential Oils! on Pinterest.
Do you enjoy recipes like these? Then click "Like" below to follow Surviving The Stores on Facebook for more!