Gluten-Free, Grain-Free Coconut Flour Chocolate Chip Cookies!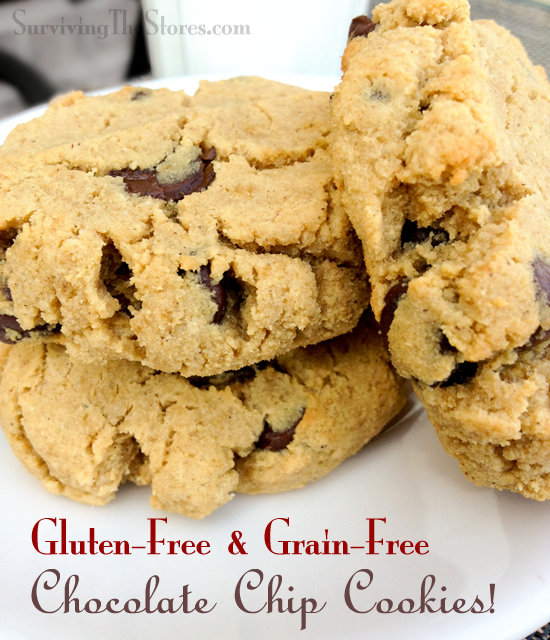 Author:
Rachel @ Surviving The Stores
1 cup coconut flour
½ tsp. baking powder
¼ tsp. baking soda
⅓ cup sugar (I used sucanat, but you can use honey or regular sugar)
1 tsp. ground cinnamon (optional)
5 eggs
½ cup of coconut oil or butter (I used half butter and half coconut oil)
2 tsp. vanilla extract (I used my homemade vanilla extract)
A lot of chocolate chips
Possibly a little extra water if the dough needs any extra moisture
Preheat your oven to 350˚.
Mix all of the dry ingredients together in a mixing bowl.
Melt the butter and coconut oil and add to the eggs and vanilla in a separate bowl. Mix well.
Pour the liquid mixture into the dry mix and mix until a nice dough forms.
Add the chocolate chips and mix thoroughly.
If any extra moisture is needed, add a SMALL amount of water at a time (1 tsp.) and continue mixing.
Grab medium chunks of cookie dough, roll them into balls, and place on a cookie sheet lined with parchment paper.
Flatten the cookies to about ¼ inch thick and seal up the edges to make the circles look nicer.
Bake at 350˚ for 13-15 minutes.
Cool the cookies on the cookie sheet and serve!
Recipe by
Surviving The Stores™
at https://www.survivingthestores.com/gluten-free-chocolate-chip-cookies.html