Just because you are eating grain free doesn't mean you have to miss out on yumminess! This cinnamon roll with cinnamon "icing" (double the deliciousness!) has become one of my favorite breakfasts, with eggs on the side. In fact, an easy way to use the egg white that is left over from this recipe is to add another egg and a few spices to it, then scramble it to serve with your cinnamon roll!
You can use your choice of sweeteners in this cinnamon roll recipe. I usually make it with erythritol and a touch of stevia to keep it low carb, but any sweetener (even sugar) will work in the same proportions.
There are two ways to make double cinnamon rolls – in the microwave or in the oven. I find it easiest to just make one as needed in the microwave, but if you prefer to use an oven you'll find instructions at the end. And a special thanks to Amy for the inspiration!
THM-FRIENDLY: For those who are doing the Trim Healthy Mama plan, this recipe works very well with THM. This recipe would be classified as an "S."
Gluten Free Double Cinnamon Roll
This extra cinnamon-y treat is a perfect gluten free complement to eggs for breakfast, or with a hot drink for an afternoon pick-me-up.
Author:
Patti @ Blossoms and Posies
Ingredients
1 Tablespoon butter (melted)
1 teaspoon sweetener
¼ cup almond meal (you can use almond flour too, but almond meal gives it the perfect consistency)
¼ teaspoon vanilla
⅛ teaspoon baking soda
1 egg yolk
dash salt
3 Tablespoons sweetener
1 Tablespoon cinnamon
1 oz cream cheese
1 teaspoon cream
Instructions
Melt butter in mug in microwave (or on stovetop).
Add sweetener, almond flour, vanilla, egg yolk, baking soda and salt to mug.
Stir vigorously and set aside.
To make cinnamon "sugar": in small bowl combine 3 T sweetener and 1 T cinnamon (this makes enough for two cinnamon rolls)
Use a knife to create swirls and gaps in the batter in the mug (don't worry if it looks messy,) then sprinkle 2 teaspoons of cinnamon "sugar" over it all.
Microwave mug for one minute.
To make the icing: in another mug, soften 1 oz of cream cheese by microwaving for 5-1o seconds. Stir in 1 Tablespoon of cinnamon "sugar" and 1 teaspoon of cream and beat until smooth.
Put cinnamon roll on plate and drizzle icing over top and serve.
To make in the oven, use a lightly greased or lined muffin tin (for regular-sized muffins) placing one serving per hole. Bake in 350° oven until light brown. Drizzle icing then serve.
Be sure to follow us on Pinterst for more great recipe ideas!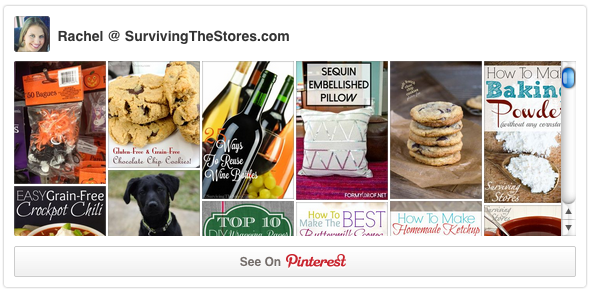 Patti Brown is a wife and mom who loves to play in the kitchen. Her three children and husband are usually happy to try her inventions, and even join the fun. Their kitchen is the busiest room in the house!Patti and her daughter write about cooking, handcrafts and their latest home arts projects at their blog Blossoms And Posies.

Read more about Patti here! >>