The BEST Homemade Pumpkin Pie Recipe!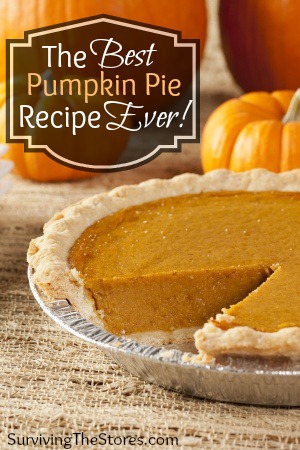 Author:
Rachel @ Surviving The Stores
⅔ - ¾ cup sugar or Succanat® Sugar (I like it a little less sweet with the ⅔ cup, but the official Libby's recipe calls for ¾ cup)
½ tsp. salt
1 tsp. ground cinnamon (I add about another ½ tsp. to it)
½ tsp. ground ginger
¼ tsp. ground cloves
2-3 eggs (the official recipe calls for 2 eggs, but I like the extra protein of adding more)
1 can (12 fl oz) Evaporated Milk OR 1½ cups of whole coconut (or other nut) milk
1 unbaked deep-dish pie shell (although I love it without a crust too)
Preheat the over to 425ºF.
Mix the eggs, pumpkin, sugar, salt, and spices in a large bowl or mixer until well-blended.
Slowly stir in the evaporated milk or milk substitute.
Pour mixture into the unbaked pie shell.
Bake in the preheated oven for 15 minutes.
Without opening the oven, reduce the oven temperature to 350ºF and bake another 40-50. If you think it's done, insert a knife into the center and if it comes out clean then it's done!
Cool on a rack for a couple of hours and serve or cover and refrigerate. Be sure the pie plate has completely cooled before putting it into the refrigerator!
Recipe by
Surviving The Stores™
at https://www.survivingthestores.com/homemade-pumpkin-pie-recipe-fresh-dairy-free.html