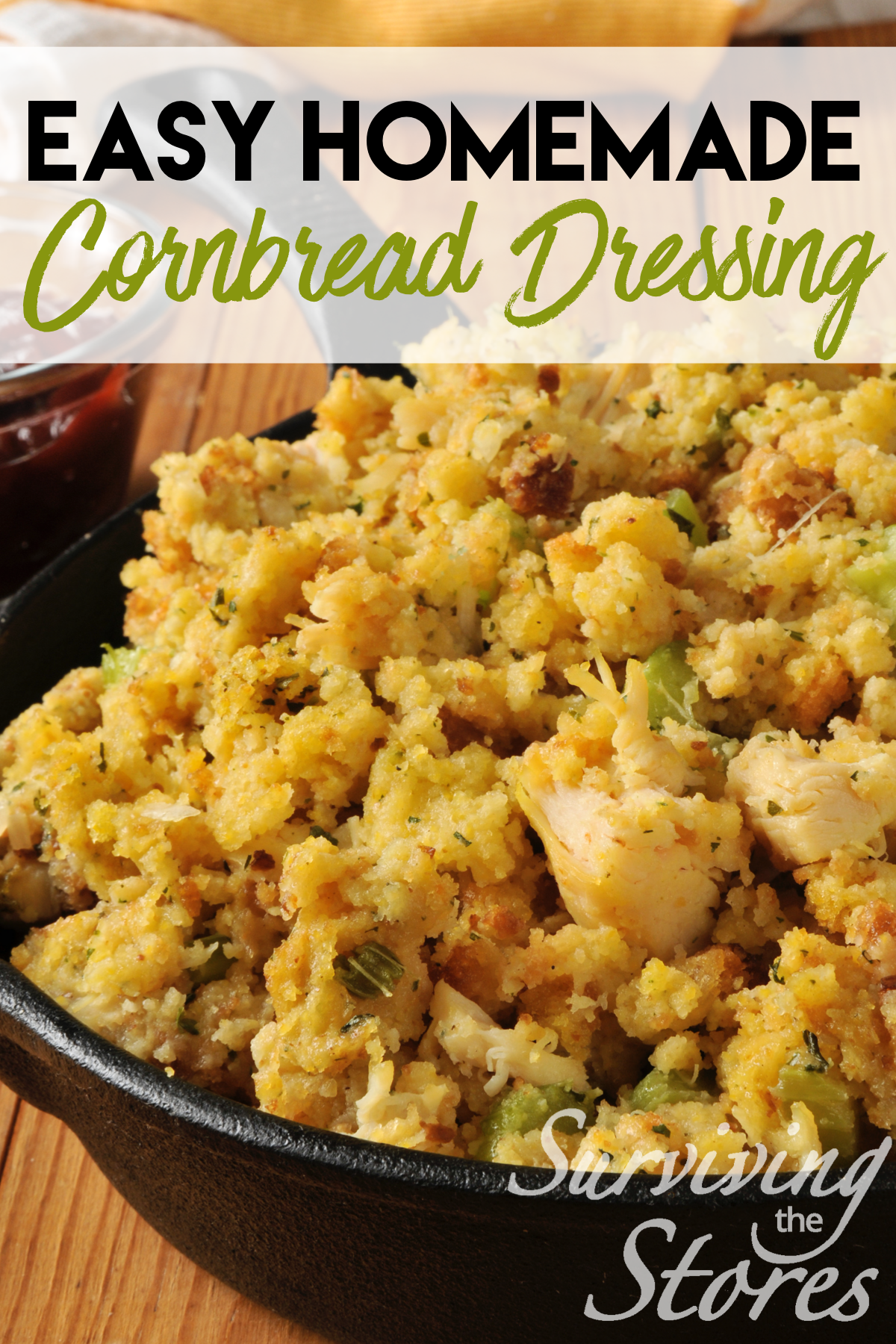 Mmmm… this is one of my favorite holiday recipes and it is SOOO easy! We have this at just about every holiday family gathering and I love that you can add to this basic recipe any other ingredients that you think would go well with it to fit with the taste buds of your family.
Print
Homemade Cornbread
---
Description
While you can use package cornbread for cornbread dressing, I think it tastes so much better with homemade!
---
2/3 cup Cornmeal
1/4 cup whole wheat flour
1 Tablespoon baking powder
1 1/2 tsp. Sugar (or 2 packages Truvia)
1 egg, beaten
3/4 cup. milk
1–2 Tablespoons Oil (you can use whichever oil you feel is best)
1/8 teaspoon salt
---
Instructions
Preheat oven to 400 degrees. Pour the oil into an iron skillet (8 – 10 inch skillet for 1 cornbread recipe, 12 inch skillet for a double recipe) and put in oven while preheating.
Mix all of the dry ingredients. Beat in the egg, add the milk, and mix well.
Once the oven is pre-heated and the oil is hot, pour the batter into the skillet and cook for 10-15 minutes until cooked through. (NOTE: Sometimes I add a little more oil to the pan and then pour a little of the hot oil into the batter before pouring the batter into the skillet)
We like to double this recipe when we make it so that we have cornbread leftover to eat by itself!! If you have a favorite cornbread recipe then you can use that instead, just make sure it's not a "sweet cornbread" for the recipe below.
Print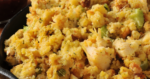 Homemade Cornbread Dressing
---
Description
Once you have your cornbread made, you can make the cornbread dressing/stuffing!
---
1 recipe of cornbread, crumbled
4 slices of whole wheat bread, broken into medium sized chunks
1 – 1 1/2 cups chopped onion (about 1 large onion)
1 cup chopped celery
2 eggs, beaten
2 cups chicken broth + 2 3/4 cups chicken broth
Sea Salt and pepper (to taste)
1 1/2 – 2 teaspoons sage (optional)
Some pieces of turkey (optional)
---
Instructions
Crumble the cornbread and mix together in casserole dish with the pieces of whole wheat bread.
Boil the chopped onion and chopped celery in 2 cups of chicken broth for 10 minutes. We had frozen chicken broth from the last time we boiled chicken so we used that. Homemade chicken broth beats the canned stuff any day!!
Let the cooked celery/onions/broth cool for about 10 minutes and add to the cornbread/bread mixture. Add the eggs and mix well, then add the rest of the 2 3/4 cups of broth and mix. Add salt, pepper, sage (if desired), and any other ingredients that you want to add.
Cook at 350 degrees for 30-45 minutes until golden grown and gelled together.
Serves 6-8 (with good-sized portions).
There are all kinds of things that you can add to this basic cornbread dressing recipe:
Toasted pecans
Dried cranberries
Dried apples
Cooked turkey sausage
Chestnuts
Sautéed mushrooms
What else do you add to your stuffing or dressing recipe?