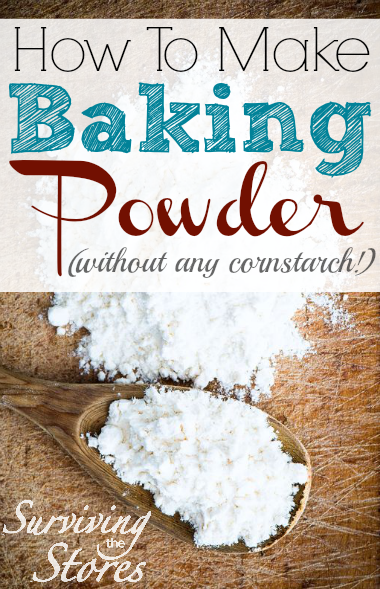 Ryan and I have been grain-free for over a year now and can't even imagine going back to eating grains. We both feel better than we ever have and really don't feel like we're missing out on much at all.
I've been concerned about the aluminum in baking powder for years (one of the reasons I like making my own deodorant), so I always would buy the baking powder that said "aluminum-free".
Now that we are grain-free though, we can't even buy the aluminum-free baking powder because it has cornstarch (and yes, corn is a grain, not a vegetable).
Baking powder is something that we use often in our grain-free baked dishes so I wanted to share with you how to easily make it yourself!
It's actually really (REALLY) easy to make and only takes two ingredients. You can add a little cornstarch to your homemade baking powder if you would like to, but it works great without the cornstarch as well.
Baking soda – Sodium bicarbonate, referred to as "baking soda" is primarily used in cooking (baking), as a leavening agent. It reacts with acidic components in batters, releasing carbon dioxide, which causes expansion of the batter and forms the characteristic texture and grain in pancakes, cakes, quick breads, soda bread, and other baked and fried foods. Acidic compounds that induce this reaction include phosphates, cream of tartar, lemon juice, yogurt, buttermilk, cocoa, vinegar, etc. Sodium bicarbonate can be substituted for baking powder provided sufficient acid reagent is also added to the recipe. (Source)

Cream Of Tartar – Potassium bitartrate, also known as potassium hydrogen tartrate, is a byproduct of winemaking. In cooking it is known as cream of tartar.
More foods you can make yourself:
Make your own vanilla extract!
Make your own butter & buttermilk!
Also, if you're interest in grain-free, gluten-free, or paleo recipes, here's a Pinterest board to follow that should be helpful!! 🙂
Follow Rachel Holland SurvivingTheStores.com's board Gluten-Free, Grain-Free, OR Paleo Recipes! on Pinterest.