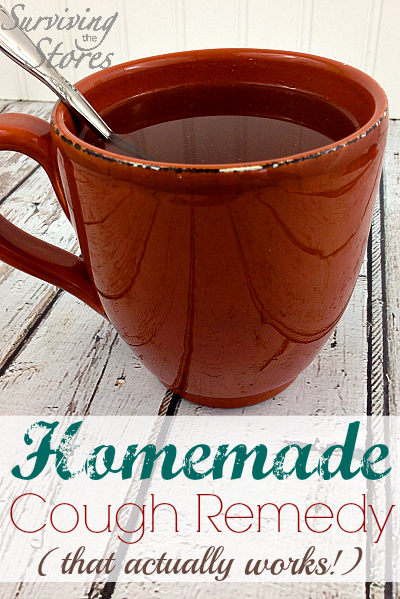 I shared a
photo on the Surviving The Stores Facebook page
earlier today listing out several of the benefits of RAW honey (contrasted with the non-existent benefits of honey at most grocery stores) and in the comments I said that raw honey is great to use in a homemade cough remedy too.
So I thought I'd share that recipe with y'all here in a post! 🙂
We've all probably heard the advice to take honey when you have a cough, and while that does soothe things a little for me, it doesn't ever get rid of it.
But this recipe that I'm sharing below gets rid of my coughs almost every time (like the activated charcoal for stomach bugs, this works better the sooner you take it after your cough starts!)
I sip on this drink like I would tea and drink at least 3-4 cups a day when a cough first starts.
Homemade Cough Remedy "Tea"
Ingredients:
1 cup filtered water
2 Tbsp Apple Cider Vinegar (you'll want the unfiltered one that says "with the 'Mother'")
3 Tbsp. Lemon Juice
1 Tbsp Local Raw Honey OR Manuka Honey
A DASH of Cayenne Pepper (start out with a *very* little bit)
OPTIONAL: a drop or two of Grapefruit Seed Extract
OPTIONAL: a few drops of Colloidal Silver
Directions:
1. Heat the filtered water in a pot over the stove until hot but NOT boiling.
2. Pour the water into a coffee mug and add the Apple Cider Vinegar and Lemon Juice. (And add the Grapefruit Seed Extract or Colloidal Silver if you have those handy.)
3. Stir in the Tablespoon of raw or Manuka honey.
4. Add the dash of cayenne pepper.
5. Stir well (or don't stir and leave the cayenne on top if you're feeling brave) 🙂
6. Don't guzzle it, but don't take *too* long to drink it since it seems to get hotter the longer it sits in the water.
Feel free to leave any other cough remedies that have worked for you in the comments below!
---