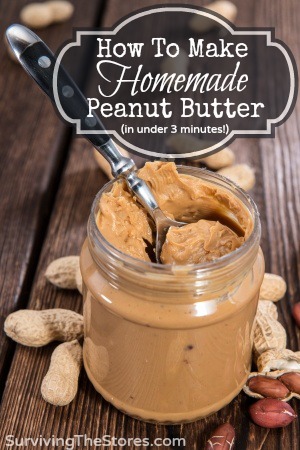 The following is a guest post from Surviving The Stores contributor Sarah Falk.
I love making homemade peanut butter. It's fast, easy, and DELICIOUS. My son thinks I should make peanut butter and sell it in the store. It's nice to make something they actually like eating.
You, too, can make your own homemade peanut butter and share in the adoration of your children.
You'll need
* a food processor, Blendtec, Vitamix, or something similar
* peanuts. (I get the honey roasted ones from Whole Foods)
Directions:
1. Dump your peanuts into your Blendtec (or whatever machine you're using). I used about 20 ounces of peanuts. You'll want to make at least 16 ounces of peanuts at a time. Less than that is difficult to blend.
2. Blend away!

3. Keep blending and raise your blender speed. Watch your peanut butter once it gets around this stage. You can pick the exact amount of creamy/crunchy ratio that you'd like. I like really creamy.
Cleaning could actually be the toughest part of this peanut butter-making gig. I almost gave up on homemade peanut butter just because I didn't want to clean the jar. (Pathetic and lazy, I know) But, no worries, I'm going to show you a trick that kept my homemade-peanut butter-making on track .
Fill your blender container with soap and water and turn it on.

After 45 seconds or so, dump out your water and wipe down your container with a rag to remove any chunks.
Turn on your blender and do a little more rinsing, then dump and rinse. All done!
More Surviving The Stores posts you might like:
20 DIY Costumes For Babies, Kids, And The Whole Family!
How To Get The Best Hotel Room Deals With Priceline!
How To Extend The Life Of Your Toner Cartridges!