We can find mustard for FREE at grocery stores pretty often, and it has a super long shelf-life… so I thought it would be great to share some additional uses for mustard besides just as a condiment for hamburgers and hot dogs!
#1: Sore Throat Relief

If you find yourself coming down with a scratchy, sore throat- try gargling with this mixture!

Sore Throat Relief
Author:
Rachel @ Surviving The Stores
Ingredients
1 Tbs mustard
1 Tbs salt
1 Tbs honey
Juice of ½ lemon
1¼ C boiling water
Instructions
Mix all ingredients and stir until blended
Allow 10-15 minutes to cool
Gargle, repeat as needed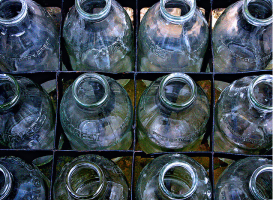 #2: Deodorizer
Mustard can help get rid of lingering smells! For example, if you want to reuse a bottle or container but can't get rid of it's odor, rinse with a combination of mustard and water to make it smell like new!
#3: Tasty Breading for Cutlets

Getting bored with the usual preparation of chicken or pork cutlets (dredging in egg and breadcrumbs)? Try spreading your favorite mustard on a clean, trimmed chicken breast or pork chop. Dredge in breadcrumbs (mix in other flavors such as parmesan cheese, garlic powder, etc) and bake or pan fry as usual.
#4: Salad Dressing

If you make your own dressings, add a little mustard for a bold new taste! Mix a few ounces of rice wine vinegar with the same amount of your favorite olive oil. Add a tsp of Dijon mustard, and a pinch of salt and pepper. Close the lid and shake!
#5: Barbecue Sauce

Add a tablespoon of your favorite mustard to any barbecue sauce for a delicious new taste!
#6: An Addition to Potatoes
Add a whole grain mustard dressing to your slices potatoes for a yummy potato salad, or a dollop of mustard to your mashed potatoes!
#7: Marinade
Add a spoonful of mustard to marinade for fish or meat! I LOVE putting mustard in my sauce that I put on top of fish when I broil it in the oven.
#8: On Eggs
Mustard is a common ingredient in deviled eggs, but it is also delicious mixed with scrambled eggs or on top of hard boiled eggs or omlettes!
Try mustard on your steamed or roasted vegetables- especially root vegetables like carrots.
#10: All-Natural Foot Soak
Are your dogs barking? Kids screaming? Add 2 tablespoons of mustard to a basin of warm water, soak your feet and relax with a nice mustard detox foot bath! 🙂
#11: Decongestant
If you have a stuffy nose, try eating a teaspoon of mustard to temporarily clear it up! If you are extra brave, you can rub mustard on your chest and cover it with a warm washcloth…
#12: Main Ingredient in Fried Chicken
Want to add a little extra flavor to your fried chicken? Add some mustard to your chicken before coating it with your flour mixture!

Mustard Fried Chicken
Ingredients
5 lbs chicken wings
1 tbs seasoned salt
2 tbs garlic powder
2 tbs onion powder
2 tbs ground black pepper
3 tbs yellow mustard
3 C all-purpose flour
Oil for frying
Instructions
Mix seasonings and sprinkle on both sides of chicken
Coat each wing with thin layer of mustard
Place flour in plastic bag and add chicken, shake to coat
Heat oil in preferred method
Add chicken and cook 6 minutes on each side or until juice runs clear
Drain on paper towels and allow 5 minutes to cool
#13: Remove the Skunk Smell From Your Car
If you are unfortunate enough to cross paths with a skunk while driving, you will soon realize that the smell does not just wear off…try using a mixture of mustard and water and spray the tires and underbody of your car to get rid of that horrible odor!
#14: Soothe Aching Muscles
Backache? Sore legs? Add 2 Tbs mustard and 1 Tsp Epsom salts to your bath and soak for approximately 20 minutes. Your muscles will experience amplified the therapeutic affects of the salts because of the mustard! (Make sure you shower afterwards to get rid of the smell!!)
#15: Help Attract Worms out of the Ground for Fishing
Just when you think you've heard it all…
add 1/2 C mustard to 3-4 gallons of water
find a flat area of land and clear it of leaves, twigs, etc.
pour mixture over soil (enough to sink in, not flood the soil)
watch for worms to come to the surface!
#16: Keep Deer From Eating Your Garden Veggies
If you live in an area with a big deer population and they are menacing in your garden…this is a great humane way to control it! Rub mustard on a tin pie plates and hang them on a post in each corner of your garden. The thought is that the deer will mistake the scent for sweaty humans and will not bother the area.
#17: Ease the Pain of Leg Cramps
Wake up with a Charley Horse in the middle of the night? You may want to keep some mustard packets in your nightstand… many people swear by eating a little mustard to put an end to these annoying pains!
#18: Ease the Pain of Heartburn
And yet another reason to keep a few packets of mustard in your nightstand… it's a home remedy for heartburn too!! Check out more home remedies for heartburn!
#19: Ease the Pain of Burns on Your Skin

Best Choices From The People's Pharmacy actually reports that applying mustard to relieve the pain of a burn actually works! Let us know if you try it and it works for you. 🙂
Alright ladies – if you are willing to try this one, I want to know how it goes! Yellow mustard, spread thinly over your face, is actually recommended to be used as a facial mask to smooth skin and improve its appearance. If you have sensitive skin it is recommended that you test a small area first before you apply to your entire face. Who knew?!?
So that should give you some new ideas on how to use all that mustard in your pantry! If you happen to be running low, check out of coupon database and grab some mustard coupons before you head to the grocery store.
More 20 Ways To Use posts:
20 Ways To Use Lavender Oil
20 Ways To Use Baking Soda
20 Ways To Use Epsom Salt
20 Ways To Use White Distilled Vinegar
20 Ways To Use Tea Tree Oil
20 Ways To Use Olive Oil
For all of the latest hot deals, printable grocery coupons, store deals, restaurant & retail coupons, freebies, samples, and a lot more be sure to sign up for the Surviving The Stores Email Newsletter, Like STS on Facebook, and follow us on Twitter! Be sure to also follow our recipes and other DIY finds on the STS Pinterest Page!