How To Get The Best Hotel Room Deals
Ryan and I were introduced to the "name your own price" section of Priceline several years ago and now we almost never stay in a hotel without going through Priceline. (I say "almost never" because I go to a few conferences each year and those are always at a specific hotel.)
So what exactly is Priceline?
Priceline is a travel website like Orbitz and Expedia where you can make reservations for hotels, rental cars, and flights. BUT, they have another fun aspect to it where you can name your own price instead of going with the prices shown! You can pick any price you want and they will check their system to see if a company (hotel/rental car company/airline) would be willing to go that low.
But there is a catch…
You can't choose which hotel you stay in, which rental car company you use, or which airline you fly when you use the "name your own price" option. You pick the quality you want, or the size car you want, and then Priceline assigns you to a hotel or car rental company that meets your selection requirements.
We have scored some incredible deals by using the name your own price section of Priceline and I wanted to share some of my best tips & tricks for getting the absolute best deals on hotels by going through the steps that we take when we're looking for a hotel room.
IMPORTANT NOTE: If you ever use the "Express Deals" section of Priceline to book your hotel room, PLEASE double and triple check the price at every step of the checkout process. They are notorious for changing the price in the middle of checkout, and it can be easy to miss that they raised the price while you were checking out.
Step 1:
Head over to Priceline and click on the hotel section under the part that says "For Deeper Discounts – Name Your Own Price" (you'll need to scroll down a little.)
Then enter the city that you want to stay in and the dates that you will be staying there.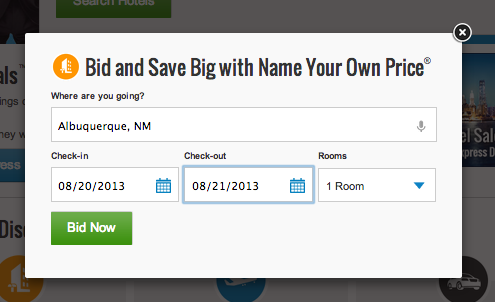 Step 2:
I used Albuquerque, New Mexico as the example and this is what shows up on the Priceline site when I type in Albuquerque:
You can see all of the different areas around Albuquerque and the different star ratings available for the areas.
For this example I'm going to go through the steps like I want a hotel that's at least 3 1/2 stars and I want to stay somewhere east or north of Albuquerque (that would be zones 2, 3, 5, 6, 8, 10, 11, and 12).
Step 3:
Now that I know where I want to stay and which star rating I want, I'm going to go to a different section of Priceline to see a general discounted price for hotels with that star rating.
I'm going to open up a new window in my browser and go to the Priceline homepage again. But this time I'm going to click on the button that says "Search Express Deals".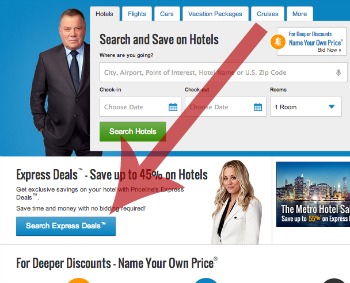 (Have I lost you? I know it seems like a lot, but getting $150 or more hotels for only $45 per night is definitely worth it!)
Put in all of the same information that you put in the first time (the same city and same dates). This is the screen that should show up after you do that.
When the new page comes up, you'll click on the box next to the icon that shows 3 1/2 stars. You'll also click on the area that says "Locations" and click on the zones that you narrowed your areas down to in step 2. There will not be numbers next to the locations in this step, so you'll just have to count out and click the right ones.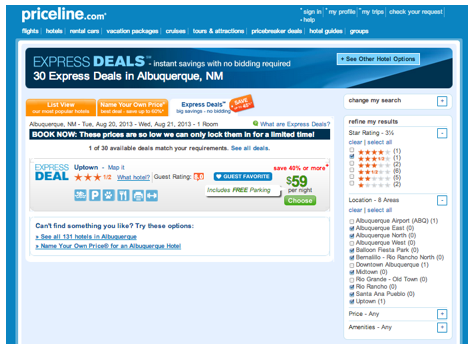 As you can see, there's only one hotel in my zones that matches the 3 1/2 star rating and they have it reduced to $59 per night with an express deal (which means you can get it lower than that with the name your own price section!)
Step 4:
Go back to the Priceline Homepage again. This time you're going to type in your city and dates of travel right into the main text box at the top of the Priceline page.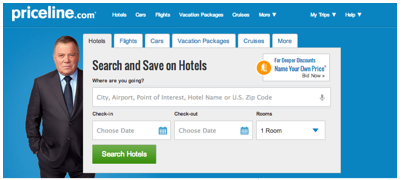 There's a box at the top of the page that lets you choose star ratings, so for this example I will choose 3 1/2 stars again.
The zone locations in this section aren't very accurate (they all say "Downtown Albuquerque – Airport") so click on the button that says "Map View" at the top right of the page.
You should now be able to see on the map which hotel(s) are in the area of the city that you want to stay in.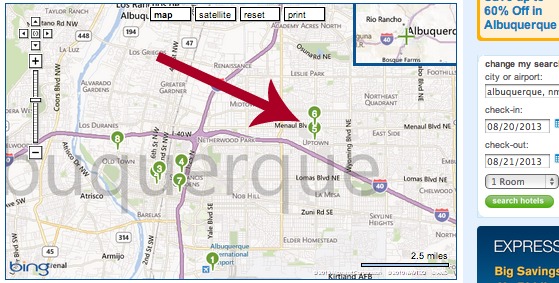 For this example, it shows the Sheraton Uptown for $114/night and the Albuquerque Marriott for $179/night.
*Chances* are that you will be getting one of these two hotels when you actually bid on your room.
Step 5 (OPTIONAL):
One of the websites that I like to take a look at when I'm looking for hotel rooms on Priceline is BetterBidding.com. It's set up like forum and you can click on the state that you will be staying in and then search for your city.
People get on this forum and let everyone know what price they paid for a certain star rating in cities across the country.
When I went to BetterBidding.com, went to the New Mexico section, and searched for "Albuquerque Uptown" there were 33 results that came up and the first 3 results were for 3.5 star hotels in Uptown Albuquerque.
Just in case you can't read it from the picture, the information on the forum is:
3.5* Albuquerque (Uptown) Albuquerque Marriott – $55 on August 17, 2013

3.5* Albuquerque (Uptown) Albuquerque Marriott – $62 on Feb 16, 2013

3.5* Albuquerque (Uptown) Sheraton Uptown Albuquerque Hotel – $62 May 27, 2012
My best guess with my current information is that I would end up getting the Marriott (the one that's listed at $179/night in the regular price section) for somewhere around $50 – $60.
At this point you might want to go to Google and read some of the reviews for these two hotels to make sure that you are okay with either one (since you have no guarantee on which one they will assign you to).
Step 6:
Now that you have a good idea of which hotel you will get and what your target price is, you can head back to that very first "Name Your Own Price" page (it should still be one of the tabs in your browser if you opened up a new window for step 2).
I am going to select zone 12 (Uptown) and 3 1/2 star.
My first bid is going to be $40 – $45. I know that someone got it for $55 recently, and I know that the Express Deals price for a 3 1/2 star in this area is $59.
Sometimes low-balling it works and they accept it right away and sometimes you have to work your way up with the bid price (which I will go over in the next step).
But it's always better to start low if you can, right?
If they accept your bid then GREAT! You're done and you will be automatically assigned to a specific hotel (hopefully one of the ones that you thought you would be assigned to based on your research above).
Step 7:
If William Shatner isn't able to negotiate your bid price then you'll go back to your original screen to rebid, BUT you'll have to either add a different area to choose from or add a star level down.
Because I've done my research ahead of time, I know which areas do not have any 3.5 star hotels available. So, I can safely add in those areas one at a time and increase my bid price as I add each area.
Based on the Express Deals page, I know that Albuquerque East doesn't have any 3.5 star hotels available. So I can add that area to my "Name Your Own Price" page and rebid.
I would raise it to $50 at this point but you can do smaller intervals (you can bid $46 or $47), just know that each time your bid is rejected you'll have to add another area, and at some point you will run out of areas to add!
I continue with the same process of adding a new area without any 3.5 star hotels for each bid that gets rejected until one is finally accepted!
Once my bid is accepted I find out which hotel I am assigned to and I am automatically charged for the room.
I'd love to hear your Priceline experiences! Have you have good experiences? Bad experiences? What other sites do you use to find the best travel deals?
**Have you entered to win an iPad Mini yet? You can enter our iPad Mini Giveaway HERE!!** (ends Dec. 16th)
For all of the latest hot deals, printable grocery coupons, store deals, restaurant & retail coupons, freebies, samples, and a lot more be sure to sign up for the Surviving The Stores Email Newsletter, Like STS on Facebook, and follow us on Twitter & Pinterest!

*Affiliate Disclosure: If you decide to use Priceline then I would love it if you used the underlined links in this post to do so! We make a small percentage from them if you click on the links in the post and reserve a room/car/flight. 🙂 *