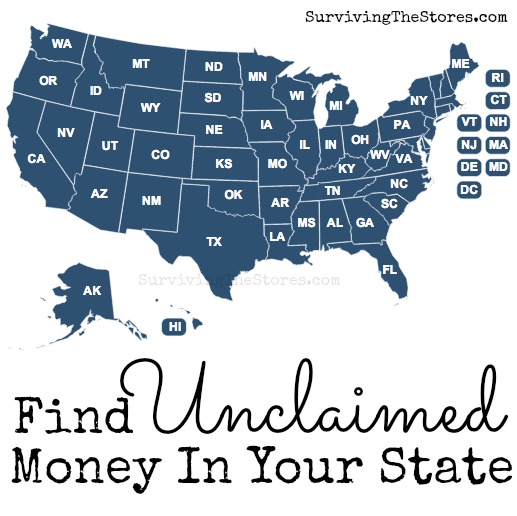 Did you know there is very possibly unclaimed money just out there waiting for you claim?
Uncashed checks from former employers, security deposits from apartments, interest from bank accounts… if you moved and the check wasn't forwarded to you, then that money is given over to the state. To hold. For YOU!!
All you have to do is search for it and claim it!
Just head over to this Unclaimed Money map and click on your state. All of the links on the map are the official government websites for unclaimed money.
Then fill in your info into their form and you can check to see how much unclaimed money you have just floating around out there. Then you can download a form (one for EACH amount of money) and send the forms in to claim the amounts.
The last time I posted about this, one reader (see the comments below) found $6,000 that she didn't know about!
Be sure to check all previous last names and all of the states that you have ever lived in.
So… did you guys find some money that you needed to claim? I can't wait to hear about it!!
Click to go to the Unclaimed Money Map!
For all of the latest hot deals, printable grocery coupons, store deals, restaurant & retail coupons, freebies, samples, and a lot more be sure to sign up for the Surviving The Stores Email Newsletter, Like STS on Facebook, and follow us on Twitter!