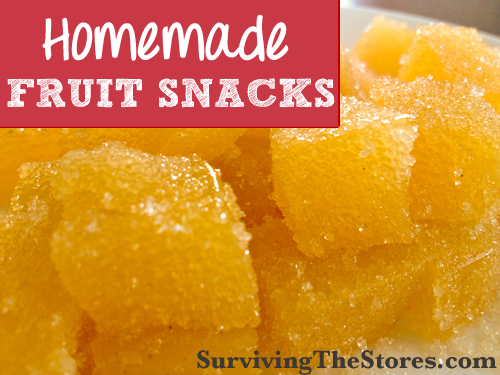 We've never gotten into the whole fruit snacks thing at our house. Mostly because I don't like having candy in the house (because if it's here we'll eat it!), and fruit chews are 100% candy. And secondly because I've heard from too many dentists that if they could eliminate ONE type of food from kids' diets it would be fruit snacks.
Okay, fine, we don't have to have them.
But I started wondering if maybe I could make something similar. Maybe a homemade "healthified" version of fruit snacks that the kids would like?
I didn't want it to have a candy feel to it because the soft candies are what the dentists get upset about.
So I was off to hunt to see if there was anything I could do besides boiling sugar to get a fruit snacks feel and taste, but without all of the gummy sugariness that sticks in your teeth (and all of the added colors, preservatives, chemicals, etc. that are in regular fruit snacks).
There was pectin, which would do what I wanted (it's what used in jams and jellies), but it would take a TON of sugar to gel. OR, I could use Gelatin, which I actually had in my pantry and it would firm up fruit juice without a ton of added sugar!
If you are wanting to buy Gelatin, I highly recommend the Great Lakes brand (yes it's expensive, but it lasts forever and is very good for you.) It is made from pastured animals (as opposed to grain-fed) and contains NO MSG. Keep in mind that these fruit snacks are NOT vegetarian or vegan-friendly unless you use a plant-based gelatin.
All you need is a little more gelatin than what you would use for homemade Jell-O (to make sure it's thicker), any juice you would like to flavor it with (if you're going for healthy I'd go with a 100% organic, unfiltered juice), and honey.
It was SUPER easy to make and everyone loved it! I brought one piece back to the office to give to Ryan and he was REALLY hesitant to try it, but he took a bite and loved it too!
Keep in mind that the recipe that I use is not very sweet, so if you would prefer it to be sweeter then you can adjust the honey (or other sweetener) to your taste. And if you have kids that are already used to the fruit snacks from the store it might take a little getting used to.

Author:
Rachel @ Surviving The Stores
Ingredients
2 cups (16 oz.) 100% Fruit Juice
2 Tbsp. Gelatin (or more if you want it thicker)
4 Tbsp. Honey
Instructions
Pour 1 cup of the fruit juice into a small pot for the stove and mix the fruit juice with the 2 Tablespoons of Gelatin.
Heat on Med-Low heat until all of the Gelatin is dissolved.
While the Gelatin is dissolving, add the 4 Tbsp. of Honey.
Add the hot mixture to the other 1 cup of fruit juice.
Pour into a silicone mold, or a greased baking pan.
Refrigerate for 4 hours.
Remove from the mold, or cut the mold in the pan into small bite-size squares.
Roll in sugar if desired.
I decided to roll a few of mine in organic sugar because I thought it looked prettier for the picture 🙂 but it tasted great without the extra sugar too!
I'm not entirely sure how these would hold up in a lunch box, but I think if they were kept cool they would be just fine.
I used freshly juiced orange juice (it took about 5 oranges to make the 2 cups of juice) but you can use whatever juice you have on hand!
Let us know if you try it!!
Related Articles: