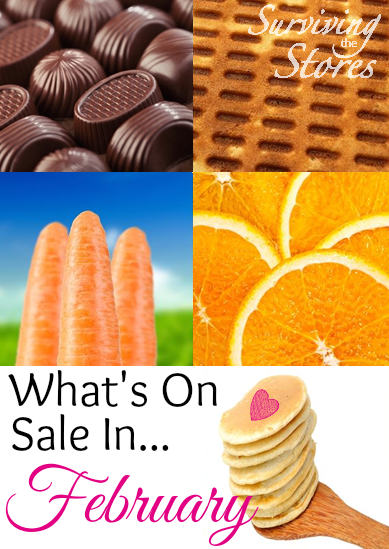 In addition to the regular sale cycles of everyday items, there are a few items that go majorly on sale during certain months of the year.
Each month of the year I share which products to watch for rock-bottom prices!
Here are the food items to watch for price drops on in February:
**Be sure to download the Favado App to see all of the sale items at your local grocery and drug stores from your smart phone or tablet!**
Valentine's Day candy & chocolate (after Feb 14th!)
Canned Foods (it's National Canned Foods Month so watch for sales on canned fruits, veggies, & meats!)
Hot Breakfast Foods (including hot cereals, oatmeal, grits, etc)
Frozen breakfast foods (including waffles and pancakes, refrigerated biscuits, frozen breakfast sandwiches, etc)
Snack Foods (think Super Bowl foods like dips, chips, etc)
Aspirin and heart-healthy supplements (it's Heart Health Month)
Chinese food like soy sauce, stir fry, ramen noodles (Chinese New Year!)
In-season fruits and vegetables:
Artichokes
Asparagus
Avocado
Broccoli
Cabbage
Carrots
Cauliflower
Grapefruit (it's national grapefruit month!)
Kiwi
Lemons (did you know these 20 ways to use a lemon?)
Oranges
Papayas
Pears
Potatoes
Sweet Potatoes
To see the full list of what's on sale throughout the year, plus an explanation of how sales cycles work, check out my post on Grocery Store Sales Cycles!