If you are looking for an appetizer that will be a crowd pleaser, Bacon Garlic Avocado Bites won't disappoint!
Bacon is one of the most beloved foods in our house. When the smell of bacon is in the air, the people I love start showing up in the kitchen with little smiles on their faces.
And when I take that yummy bacon and wrap it around avocado and a little sauteed garlic? I just can't make enough to satisfy everyone!
These are great appetizers for parties – they look fancy but are simple to assemble. They also work well for those on low carb, gluten free or paleo diets. Yum!

Bacon Garlic Avocado Bites
Sizzling bacon wrapped around avocado and garlic - a bite of happiness!
Author:
Patti @ Blossoms and Posies
Ingredients
10 slices bacon, cut in half crosswise
5-6 large cloves of fresh garlic, sliced into ⅛" thick pieces
1 large avocado, skinned and cut in 1" cubes
optional: Tabasco Sauce
Instructions
Preheat oven to 375°F, and warm up griddle.
Place slices of bacon on griddle, cooking the first side until partly done (still soft).
Flip the bacon slices over then add the garlic slices to the griddle, making sure a flat side of each garlic slice is touching the griddle.
After a minute, flip the garlic slices and cook for 30-60 more seconds (at most let the garlic brown lightly)
Remove the bacon and garlic from the griddle quickly so it doesn't overcook.
Working as fast as you can, wrap one piece of avocado plus one slice of garlic with a strip of bacon, and secure with a toothpick.
(Optional: for a spicy bite, put a few shakes of tabasco sauce on each avocado chunk before rolling up)
Bake at 375 for 3 minutes until sizzling.
Serve immediately.
Be sure to follow us on Pinterst for more great recipe ideas!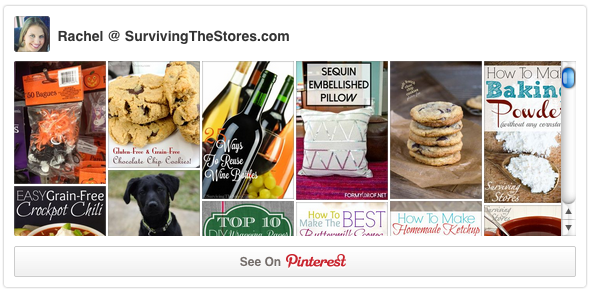 Patti Brown is a wife and mom who loves to play in the kitchen. Her three children and husband are usually happy to try her inventions, and even join the fun. Their kitchen is the busiest room in the house!Patti and her daughter write about cooking, handcrafts and their latest home arts projects at their blog Blossoms And Posies.

Read more about Patti here! >>