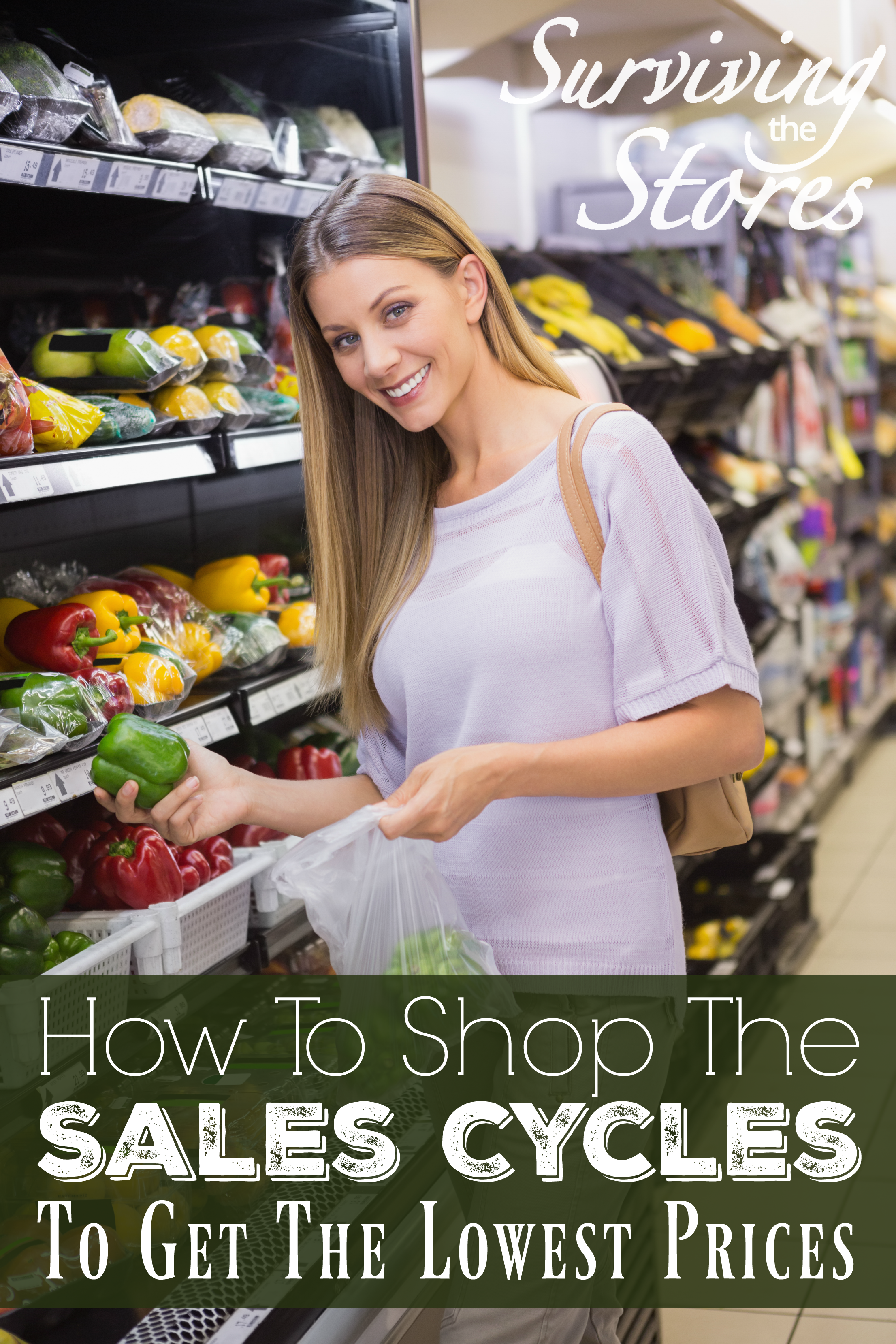 Tip #7: Learn The Grocery Store Sales Cycles
I'm sure most of you have heard the term "sales cycles" if you've been couponing any length of time.
"Sales Cycles" in grocery shopping refer to when a particular product goes on sale at its "rock bottom price" (which just means that it's at it's lowest price that it will go).
We talked last week about how to do coupon match-ups, and, as I expected, I got several questions about how sales cycles factor into coupon match-ups.
As we talked about in Tip #5, you want to keep your coupon until there is a sale to "match" your coupons "up" with. (Thus the term, "coupon match-ups"). 🙂
But how do you know when certain products will be on sale?
Most everyday products have a sales cycle of about 3 months (some shorter, some longer). That means that if cereal (for example) is on sale this week at the lowest it will go, then it likely will be at that price again in another 3 months or so.
Three months isn't ALWAYS the case, but it's a good rule-of-thumb.
So when you're deciding how many boxes of cereal to buy during a great sale, remember that they will go on sale again in another 3 months. So get enough to last you for about 3 months until the next sale (or if you want to take a couponing break for several months, or stock up for a potential emergency, then definitely factor that into how many you buy too!)
It's nice to know that if I don't have the room (or desire) to stock up on a lot of one item that, if history is any indicator, it will be at that price again in about 3 months.
There are some items though, that only hit their lowest price once or twice a year. So it really does make sense to stock up on 12 bottles of BBQ sauce when they hit their lowest price, because it won't be that low again for another year.
Of course, if you use more than 1 bottle of BBQ sauce a month, then you'll want to adjust accordingly. 🙂
The yearly sales cycles are interesting to me, because the drops in prices actually go in line WITH demand. So when the demand goes up for certain products, then price goes DOWN. Sounds strange, right?
Well, again we'll talk about marketers and what they WANT you to do. Marketers know that during certain times of the year most people are FOR SURE going to the store for certain items.
In November most people are FOR SURE buying turkey. Around Super Bowl time most people are FOR SURE buying chips & salsa. And at the beginning of the summer most people are FOR SURE buying grilling items and condiments like BBQ sauce, ketchup, meat, etc…
So where are most people going to buy these items that they are FOR SURE going to get? It's up in the air, and grocery stores want you to buy these items from THEM over another grocery store. And they are willing to take even a loss on these items to just get you in the door.
Why? Because MOST people only shop at one, MAYBE two, grocery stores each week. And they know that if they can get people in the door who want the low-priced turkey and other Thanksgiving foods in November, then those people will likely also buy a ton of other OVER-priced items to make up for the loss that the store is taking on the in-demand items.
Makes sense, right?
BUT, we can use this to OUR advantage. If we shop the sales cycles and stock-up when the price is low (more on stockpiling, or stocking-up another week) then we will have enough of that product to last us through when the price is higher again. And we won't be running to the store for $3.50 BBQ Sauce in December! We will have gotten enough of it in June when it was on sale for a $1 and there was a $1/1 or 50¢/1 coupon to go with it to make it free! 🙂
The yearly sales cycles are actually pretty easy to figure out. For the most part think about what people are WANTING to buy that month… and it's likely on sale!
Here's a short rundown of the basic yearly grocery store sales cycles:
January
Super Bowl Sunday (snacks, chips, salsa, pizza, cokes… we call all soft drinks "cokes" here in Texas) 🙂
New Years Resolutions (diet foods)
Cold & Flu Season (medicine, vitamins, etc…)
February
Valentine's Day (candy, CHOCOLATE, CHOCOLATE…. CHOCOLATE) 🙂
National Canned Foods Month (that's pretty self-explanatory, right?)
Breakfast Foods
March
Frozen Food Month
Spring Cleaning Starts (lots of deals on household cleaner)
April
Easter (ham, baking items, eggs)
Passover (Kosher foods)
Earth Day (organic, natural items)
May
Grilling Season begins/Memorial Day (condiments, meat, cheese, etc)
Cinco De Mayo (tortillas, beans, etc…)
June
National Dairy Month
July 4th (pretty much the same as grilling season)
July
July 4th (same as above)
National Ice Cream Month (YAY!!! How long will ice cream last in the freezer? 😉 )
August
Back To School (snacks, juices, school supplies)
Steptember
Back To School continues
Breakfast Foods (part of the Back To School promos)
October
Getting ready for fall baking
Halloween/Fall Festivals (candy)
November
Thanksgiving (turkey, stuffing, sweet potatoes, baking supplies)
Black Friday (no specific items, but even grocery/drug stores will have some GREAT Black Friday deals)
December
Christmas (ham, turkey still lower than normal, party items)
That's just a BASIC list, but like I said, it's pretty easy to figure out. Just think to yourself "what food is pretty much everyone wanting to buy right now?" and that food will likely be at (or close to) your "stock up price".
With a few exceptions (like Canned Food Month and Frozen Food Month) it all goes right in line with the holidays and major events.
Can you think of anything else I need to add? Let me know in the comments section below and I'll add it to the list!
| | |
| --- | --- |
| << Tip #6: Learn How To Do Coupon Match-ups | Tip #8: Learn How To Stockpile Effectively >> |