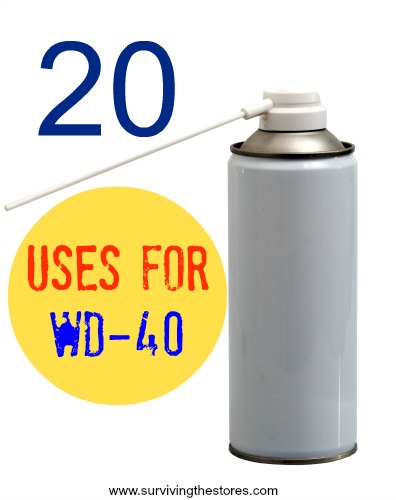 Having a can of WD-40 in the house can serve as a mini handy man while saving you time and money. Long known for stopping squeaks and preventing rust, WD-40 has plenty of household uses that may surprise you.
1. Keeping Garden Tools Clean
Spray WD-40 on your shovels, hoe, spading fork, and other tools, to make cleaning off dirt and clay a breeze.
2. Gum Removal
Gum stuck in carpet or hair? A little spray of WD-40 will take care of it without the dreaded scissors.
3. Crayon Eraser
If the kids got a little creative with where they use crayons then WD-40 will come to the rescue. Just spray a little on walls, windows, televisions, and other hard surfaces and wipe clean.
4. Clean Saw Blades
Do your saw blades have tar, gunk, or rust on them? Spray with WD-40 and it will come clean in a jiffy.
5. Tile Cleanser
If your tile can tell the story of a DIY painting project, nail polish gone wrong, or quickly getting ready for work and spilling your make up days, then erase it all with a spray of WD-40. Make sure to follow it up with soapy water.
6. Goo Remover
You don't need to buy another product to remove the goo left behind by stickers or duct tape. Just get rid of the goo with a spray of WD-40.
7. Clean Stainless Steel
And yet another cleaning product you can cross off your list. No more buying specialty products to clean your stainless steel sink. Just spray and wipe!
8. Unstick Legos
When your child brings you two Legos that appear to be fused together, just break out the WD-40 and you will be a hero.
9. Laundry
If you love a roofer then you will want to keep WD-40 on hand. When your roofer comes home with tar all over work clothes simply pre-treat with WD-40.
10. Fret Cleaner
Don't fret over dirty frets. Prevent rust and clean guitar frets with a spray of WD-40.
11. Paper Shredders
Is your paper jamming in the paper shredder? No worries, just a little spray and no more jams.
12. Blender Blades
Coat blender blades to prevent corrosion. Just be sure to wash well before using it. 🙂
13. Shutters
Bring back the vibrant colors in your vinyl shutters by spraying with WD-40.
14. Tree Sap
If you get a real Christmas tree you may experience sap on your ornaments. Just use WD-40 to wipe them clean.
15. Carpet Cleaner
Removes ink and crayon from carpets.
16. Lipstick
Don't worry about the lipstick on your collar as long as you have a can of WD-40. WD-40 will help it to come right out.
17. Shower Heads
Is your shower head a little clogged? Unclog it quickly and easily with WD-40.
18. Plumbing Snakes
If you used a plumbing snake in the past you know how rusty they can get. WD-40 will keep them rust free.
19. Mother of Pearl
Will keep Mother of Pearl shining and beautiful.
20. Silverware
Spray on silverware to prevent tarnishing while storing.
You can find over 2000 more uses on the WD-40 website!
Have you read the other articles in our "20 Uses For" series?
20 Ways To Use Lavender Oil
20 Ways To Use Baking Soda
20 Ways To Use Epsom Salt
20 Ways To Use White Distilled Vinegar
20 Ways To Use Tea Tree Oil
20 Ways To Use Olive Oil
20 Ways To Use Mustard
20 Ways To Use Apples