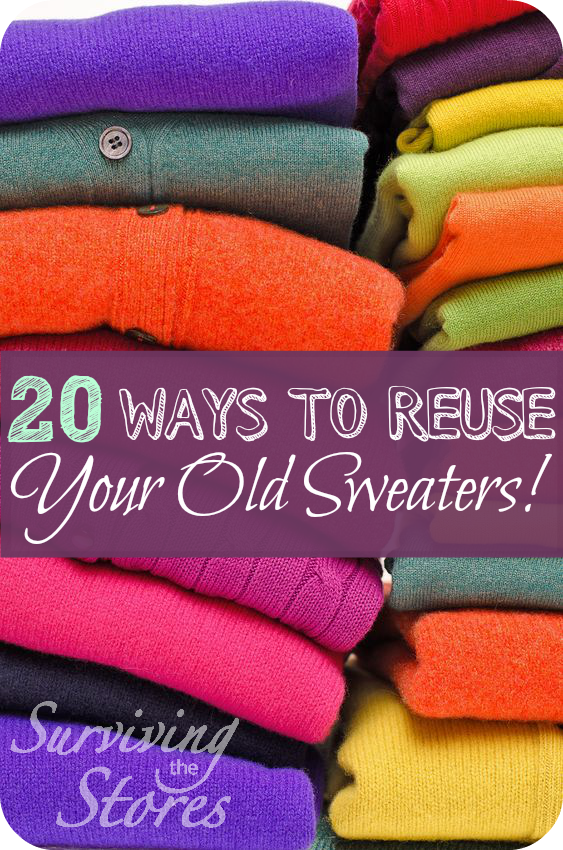 Do you have any old sweaters tucked away in your closet that you're never going to wear again?
Regift them!
But not as the original sweater. There are all kinds of fun things you can transform a sweater into!
Here are a several ways to reuse your old sweaters that I found on Pinterest! Just click on each photo to go to that page on Pinterest and repin it to one of your boards if it's something you are interested in. You can also click on the picture again once you see it on Pinterest to go to the original blog for more directions!
1. Make a Sweater Dress
2. Make a Scarflette
3. Make a TODDLER Scarflette
4. Make Wine Bottle Covers
5. Make No-Sew Pumpkins
6. Make Socks
7. Make Mittens
8. Make Coffee Cup Wraps
9. Make a Scarf
10. Make a Headband
11. Make Vase Covers
12. Make a Lamp
13. Make Baby Pants
14. Make Open Mittens
15. Make Leg Warmers
16. Make Drink Cozies
17. Make A Sweater Purse
18. Make a Sweater Pillow
19. Make A Toddler Dress
20. Make Christmas Stockings
Follow Surviving The Stores on Facebook for more fun and FRUGAL ideas!
And be sure to FOLLOW ME ON PINTEREST to see all of the other fun things I find!