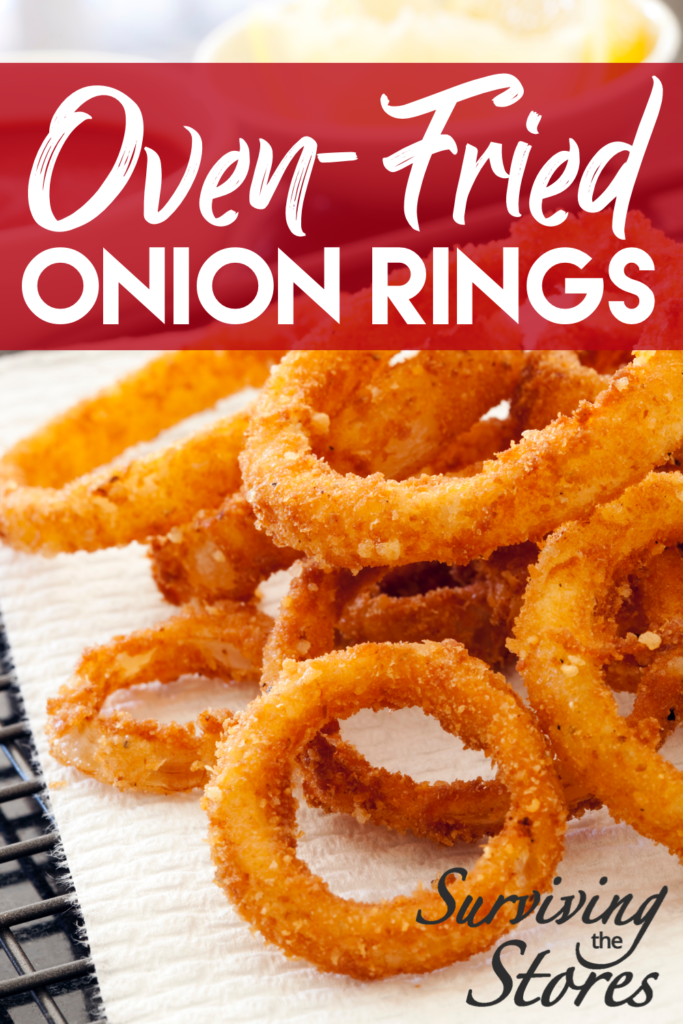 I must say, out of all of the recipes that I made for the healthy holidays recipe link-up, this one just might be my favorite. I LOVE onion rings, but the fried ones are just SO incredibly bad for you. These were pretty easy, and were just sprayed lightly with olive oil!
You absolutely could put these into an air fryer instead of the oven and they would be great!
I'm also going to be working on a keto/gluten-free version of these because I NEED onion-rings back in my life!
Print
EASY Oven-Fried Onion Rings!
---
2–3 sweet onions
3 large eggs
1/4 cup milk
1 1/2 cup whole wheat flour
2 teaspoons baking powder
Sea salt and pepper to taste
Olive Oil (or other kind of oil) in a sprayer or spritzer
---
Instructions
1.  Cut onions in half and slice thin (like a rainbow).  If you are making full circle onion rings then leave the onion whole when slicing… if you are making green bean casserole, then cut the onions in half first.
2.  Mix eggs and milk together with a fork in a small bowl.  Put flour, baking powder, sea salt, and pepper in a large ziploc bag.
3.  Place a handful of onions in the egg/milk mix and let sit for about a minute.
4.  Put the egg-drenched onions into the ziploc bag, close it, and shake WELL.
5.  Put on a plate or on a sheet of foil (this will help to get rid of the excess flour before you put it on the cookie sheet)
6.  Lay onions rings or slices on a foil or parchment paper-lined baking sheet (it doesn't have to be lined, I just like the easy clean up!)  Spray well with your choice of oil in a spray or spritzer.
7.  Bake at 425 degrees for 5-10 minutes until golden brown.  CHECK THEM OFTEN to make sure they do not burn.
Notes
Store in an airtight container if you can resist eating them all right away.  🙂