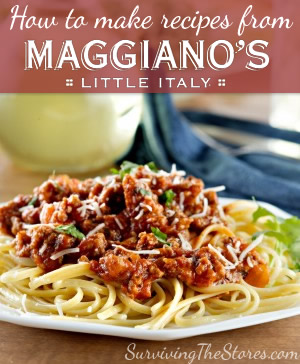 I love it when I find good copycat recipes, but it's even better when restaurants publish the recipes for their dishes themselves!
Maggiano's is one of my favorite restaurants (at least it was before we went grain-free) and they have great recipes on their website in pretty much every recipe category.
Just click on the recipes below to see and pin all kinds of great ideas!
How to Make Recipes from Olive Garden
Easy Homemade Hummus Recipe
Moroccan Tagine Recipe With Beef & Sweet Potatoes
For all of the latest hot deals, printable grocery coupons, store deals, restaurant & retail coupons, freebies, samples, and a lot more be sure to sign up for the Surviving The Stores Email Newsletter, Like STS on Facebook, and follow us on Twitter & Pinterest!

Disclaimer: I was in no way compensated for this post and Maggiano's has no idea that I'm linking over to them. Although if they wanted to compensate me for it I'd be more than happy to accept any gift cards that they wanted to send my way. 🙂