Aren't those gym membership ads so convincing?
Those free months when you sign a 1-year contract. No registration fee if you enroll in January. All of the fitness classes that you can join at no additional charge.
It's so tempting!
And maybe there really is a gym membership in your area that works out for you!
When Ryan and I lived in College Station (btw, did you see that the AGGIES are ranked #1 in the college pre-season football rankings?! WHOOP!) we were members of a family fitness complex called Aerofit. They had amazing child care, indoor heated pools, a huge indoor play place for the kids, lots of workout equipment, an indoor track, tennis courts, lots of areas to sit and work or watch a TV show (they had several TVs in different parts of the complex with couches around them), AND it was 5 minutes from our house. That place was worth every single penny that we were paying every month, and we were there ALL the time!
So then we moved up here to Dallas. And there are almost as many gyms on every corner as there are churches. But none of them could hold a candle to what we had back in College Station!
Even so, we were sucked into the lure of a gym membership at one of our local gyms when we first came to Dallas almost 6 years ago. And it was a total failure!
There was always a reason that it just didn't work out to go…
"It's flu season and I don't want to bring the kids to childcare."
"I don't want to get everyone ready just to go to the gym for 45 minutes."
"The time I have available to go doesn't fit with the times that their child care hours are open."
So we ended up canceling. And then a couple of years ago (and with 2 more kids) I thought maybe it would work out if I tried it again.
Nope, not at all.
We cancelled the membership again and have vowed NEVER to get another membership to a gym unless it's a family-style facility like we had before that's within 5-10 minutes from us!
It just doesn't work for our family otherwise.
But I still wanted (NEEDED) to work-out so I started looking into other options that I could do from home.
I've never been someone who did well with workout DVDs. Either I would get tired of the music, or the things that the person on the DVD would say would start to drive me nuts after hearing them every single day (I can still quote Denise Austin's Super Stomachs video that I did for a month during High School!)
So in this post I'm going to tell you what I've found that works for ME (because maybe some of you are like me and don't want to do the traditional gym membership or exercise DVD) and then I'm going to tell you some resources for finding different cardio workouts online for FREE! Also, your local library likely has lots of workout DVDs that you could check out (just remember to return them on time or the "free" DVDs can turn into hefty fees)!
The Nintendo Wii
Or XBOX with Kinect/PlayStation would work too. I've tried just about every workout possibility out there and working out on the Wii has been the only thing that stuck and not just been something that I tried for a week or two and got bored with.
Yes, there's an upfront cost of around $150, plus any exercising games you want to buy. But how much is a gym membership? $40 – $50 a month after taxes per person? Take the money from 3 months of a gym membership and apply it towards a Wii! Then use what you would have spent on a fourth month to buy a couple of good fitness games. There's really nothing else to buy after that!
My FAVORITE exercising games on the Wii (BY FAR) are the Just Dance games. We have Just Dance 1, 2, 3, and Just Dance Disney and I love them all. (Just keep in mind that on the adult Just Dance games there are a few songs/moves that you might not feel are appropriate for little ones so definitely screen it before you let the kids join in.) I'm considering getting the Zumba game for the Wii next (I'm still a little traumatized from watching myself do Zumba a few times at the gym so I'm a little hesitant to look like a complete fool again, even with no one watching!) 🙂
You can also try Craigslist and game stores (like Game Stop) to see if you could purchase the games or even the Wii console at a discounted price.
If you find a used, but scratched game that doesn't work any longer, try using one of these DVD/CD scratch removal methods to get it to work again (we use the car polish on our DVDs and Wii games all the time!)
Online FREE Workout Videos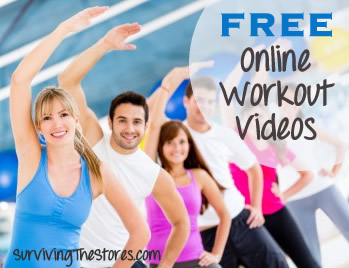 If you can handle workout videos (or maybe you want to try a new one every few days!) then here are some places that you can watch workout videos for FREE!
Let us know in the comments below if there are any other FREE fitness channels that you like!
AND we have our giveaway winners for week two! Each of the following Surviving The Stores readers will get a $25 Amazon gift card!
Chastity R (chastityr…@)
Lori (Lorilie…@)
Be sure to check your spam folders in case the email to claim your prize went there! Winners have 48 hours to confirm their email address before a new winner is chosen.
Do you want to enter to win for next week? Fill out the form to enter! (And if you've already filled it out and didn't win this week or last week, then you're already in for the future drawings)

Related posts: