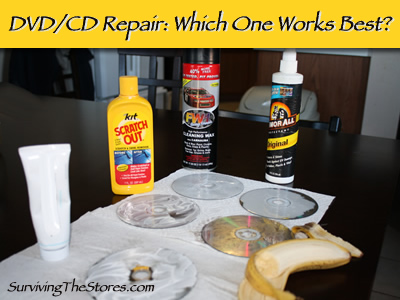 I don't know if this is true for everyone, but for us, little kids = scratched DVDs. I know, we should be better about keeping them out of their reach, and we did REALLY good on this with the first two kids.
But now we have 4 kids. And lots of scratched DVDs.
So last night I had finally had enough of trying to find a DVD that actually would play all the way through, and I bought a $7.88 container of CD/DVD scratch remover at Walmart.
And it really did help with the DVD I used it on (Little Einsteins). It wouldn't play more than a couple of minutes before I used the scratch remover, but we put it in after using it and it played ALL the way through without an issue! WOOHOO!
But I noticed something when I opened up the $7.88 (SMALL) bottle of scratch remover. It smelled suspiciously JUST like car wax.
So I did something that I should've done before I went to Walmart to buy the scratch remover. I googled it!
And oh my, you come up with all kinds of crazy ideas when you google something. Using a banana? Toothpaste? LOL! Sure, why not?
So I looked through our garage, kitchen, and bathroom to see what we had in there and this is what I found:

A banana, toothpaste (the paste, not the gel), armor all, car wax, and scratch out.
And I tried them all! Here are the directions I used for each:
Banana: Cut off a piece of ripe banana and rub the banana around the DVD (or CD) in a circular motion. Then rub the inside of the banana peel around the DVD in a circular motion. Finally, buff (again, in a circular motion) with a dry cotton towel.
Toothpaste: Squeeze a small amount of PASTE toothpaste onto the DVD. Rub it in pretty well and let sit for around 5 minutes. Wash the toothpaste off the DVD and then spray with window cleaner and buff in a circular motion with a cotton towel. Let dry.
Armor All, Car Wax, & Scratch Out: Apply to the DVD and rub it in in a circular motion with a cotton towel. Let sit for at least 5 minutes. Buff off in a circular motion with a dry towel.
At first I tried them on different DVDs, and looked at the results. Several of the DVDs looked MUCH better. The only DVD that DIDN'T at least look better was the one that I used the banana on.

The banana pretty much did nothing. Actually, it might have made even MORE scratches on the DVD. Goes to show that you can't just trust Youtube!
I had used the banana on the worst of the DVDs which was our ABC signs Signing Time DVD. ALL of our kids have been obsessed with Signing Time since they were toddlers, and the ABC signs one was especially well-worn.
So since I had used the banana on the worst one (and it made it worse), I thought I'd use the Signing Time DVD to work my way through the other methods.
The toothpaste did okay. I could tell that there were fewer scratches on the DVD, but there were still a bunch of skips when I tried to play it.
The armor all made absolutely no difference.
Then I tried the car wax and there was a huge (HUGE) difference! We could play through the letter D on the DVD (that's where it always would stick). I was thrilled! But later in the DVD (around half way through) it started skipping again.
So on to the Kit Scratch Out. I rubbed it in, let it sit for around 5 minutes, and then buffed it out with a cotton cloth.
And the DVD played ALL THE WAY THROUGH! First the first time in years.
The Kit Scratch Out is around the same price as the "official" DVD/CD scratch remover, but has 3 1/2 times MORE product in it! And you likely have some sitting in the garage somewhere!

I would love to hear your experience with getting rid of scratches on your DVDs or CDs! Are there any other methods that I didn't cover?
Disclaimer: This is only my experience. Others may have a different experience when using these products or others. Surviving The Stores makes no guarantees, either written or implied, that any particular methods will work to get scratches out of CDs or DVDs. Always consult a professional before attempting pretty much anything. 🙂