Last month Ryan and I made our annual drive from Texas out to California to visit family! We do the crazy long 24 hour drive once a year and thankfully that's all because it is a LONGGG trip with 4 kids in the back!
There were some apps that we found super handy while on the road and I wanted to share them with you guys because I thought they might be helpful for you as you do any last-minute summer traveling.
All of the apps below are completely FREE, although a few of them have upgraded versions that you can purchase (and I'll let you know which ones we thought were worth it to upgrade). The description in the blue box is directly from the app's iTunes page, everything else is my commentary.
Here are my top 8 favorite FREE apps that we used (and feel free to share your favorites in the comments too!!)


Wunderlist App
The first app that I think is a must-have when traveling is actually an app that's a must-have for LIFE in general!
The Wunderlist mobile app for iPhone and iPod Touch will boost your productivity. Organize your to-do lists on the go and synchronize them with your free Wunderlist account. View and modify your tasks on Windows, Mac, Linux,iPad, Android and the Web.
I would be completely lost without Wunderlist for my packing list! Not only can I put all of the items that I think of on my list, but I can share the list with Ryan so that he can add items to the packing list as he thinks of them too.
And the packing list stays completely separate from my grocery shopping list, cleaning to-do list, or Surviving The Stores to-do list.
I have tried out A LOT of to-do apps and Wunderlist is by far my favorite. It seamlessly syncs with my iPhone, iPad, and Mac so that I can add items to my lists no matter where I am.
I've known about Yelp for years but hadn't really joined the whole Yelp bandwagon until recently… and I was definitely missing out!!
Looking for a burrito joint open now? An Irish pub nearby? A gas station you can drive to before your tank hits empty? Yelp for your iPhone or iPad is here to help. Use us to search for places to eat, shop, drink, relax and play then read reviews from an active community of locals in the know.
How do you decide where to go to eat when you are on the road? Many times we take the less expensive option of running into a grocery store and grabbing sale items for breakfast or lunch, but what about the times that you want to grab something to eat at a local place? Maybe you're in the mood for a hole-in-the-wall Mexican Food restaurant that doesn't break the budget.
Just open up your Yelp app and see what's there! You can search for restaurants within a certain radius from where you currently are (or a city that you are traveling to), filter it by price, and by star ratings. We found some true hidden gems while on our trip that we wouldn't have found without Yelp!
I'm sure lots of you guys have heard of (and use!) the GasBuddy app and it is definitely an invaluable tool on trips for budget-savvy travelers!
Find the cheapest gas on the go – for free! In one click, locate gas stations near you and see their current gas prices. Never overpay for gas again.
Does it bug you guys as much as it bugs me to fill up with gas at one place and then drive down the highway and pass another exit that has it for 15¢ cheaper?
When your tank is getting low, just pull up GasBuddy to see the BEST gas prices reported by other GasBuddy users in your area!
I've posted before how much I love Priceline. We use Priceline pretty much any time we travel and have always been very pleased with the results. If you haven't already, be sure to read my post on how to get the best deals with Priceline!
The Priceline App offers a simple way to book hotels and rental cars when you're on the go. All reservations are backed by our best price guarantee. Choose your exact hotel and rental car, or Name Your Own Price® for deeper discounts. Plus, take advantage an exclusive Tonight-Only® Deal for extra savings on same day hotel reservations.
Are we the only ones who decide at the last minute where we are going to stay? I really like having the flexibility to just stop driving at whatever town we can make it to. If we think we can make it to Albuquerque in one day but we get to Albuquerque and say, "Let's just drive all the way to Gallup!" then I like the freedom of being able to do that!
Priceline lets us be able to NOT plan ahead and still get great deals on hotels. You can do pretty much anything you can do on the regular Priceline site with their app, including the Name Your Own Price section which is where we always get the best deals. 🙂
I originally download the iExit Lite FREE version and loved it so much that I paid 99¢ for the full version! GASP! Yes, I actually PAID for an app, I know I know… hard to believe, right? 🙂
UPDATE: The full iExit app is FREE for the rest of 2014!!
Y'all – this app is AWESOME!!
iExit tells you what's at upcoming exits in real-time when traveling on a major highway in the US. It displays restaurants, gas stations, hotels, and more by exit as well as on a map. Once you have found a place you like, get directions or call with one touch. iExit tells you what's coming up in real time when driving on the interstate. It's designed to easily communicate which upcoming exits have what you need, whether that's gas, a hotel, a rest area, or specifically a Starbucks.
Let's say you're driving through the middle of nowhere (which was pretty much our entire trip out to CA) and you are starting to get hungry. You're fine with a fast food place and you see an exit sign that advertises a McDonalds at the next exit. It's not really what you are in the mood for, but you are so hungry that you don't want to take the chance of not having another option for another 60 miles.
Enter iExit! Just pull up the app and it will tell you ALL of the exits that are up ahead and exactly which restaurants are at those exits. So in the example above, you open the app and see that there's a Boston Market, Subway, and Chipotle just 5 miles up the road!
We used this app CONSTANTLY on the trip, especially with where to take the bathroom breaks with 4 kids in the car! 🙂

Groupon App

If you haven't signed up for a Groupon account yet, you'll definitely want to sign up for one a few weeks ahead of a trip!
Many times we just think of Groupon in relation to deals that are close to where we live, but if you know exactly what cities you're traveling to then you can look at the deals in those cities a few weeks (or even months) before you go there to see if there are any good Groupon deals for restaurants or hotels that you might want to grab.
And now with the Groupon NOW section you can pull up the deals that you can redeem right then at any major city that Groupon covers. It's perfect for last-minute decision travelers like us. 🙂
Groupon features deals on the best stuff to do, see, eat, and buy in more than 500 cities and eleven fiefdoms around the world. Our unbeatable deals typically weigh in at discounts of 50-90%, ensuring a level of access to your city that'll put the mayor in a jealous rage. Daily deals are signed, sealed and delivered to phones each morning, while thousands of deals on demand can be found in real-time, ready for immediate use with Groupon Now!


Trapster App
Okay, PLEASE don't think that I'm endorsing speeding with this app. AT ALL!
But am I the only one who has been on a road and had absolutely no idea what the speed limit was? I WANTED to go the speed limit, I just hadn't seen a sign in a while!
Or what about those "speed trap" towns where the speed limit jumps from 60 to 35 in the blink of an eye? Wouldn't it be nice to know when those towns were coming up?
Trapster is a great app to have in your app arsenal to check when you're unsure about the speed limit on the road, or want to check for any speed trap areas!
Install Trapster today to transform your driving experience. As you drive, your mobile phone alerts you to speed traps, red light and speed cameras, accidents and other roadway hazards. Download and join the world's largest driving community with over 15 MILLION Trapster users.

Shoeboxed App
I didn't have this app before our California trip, but I'm SOO thankful I found it before I went to a blogging conference at the beginning of this month!
If you do any kind of traveling for business then this app is another must-have in my opinion. Especially for me… Ryan gets on to me all the time for not keeping track of my business receipts like I should. He's the finances person in our family (and I majored in accounting, weird huh?) so it throws everything off for him when I don't have the receipts.
Well now there's Shoeboxed which is a service you might want to consider signing up for (they have a free version) and a FREE app that goes with it!
Snap a picture of any receipt and Shoeboxed will turn that receipt into useful, portable and searchable data within 1 business day or less. Turn this data into an expense report or Excel spreadsheet in seconds. Or send this data to dozens of accounting and bookkeeping tools from your secure online account with a click of the mouse. Shoeboxed is a FREE service. Premium Plans optional and include a 30-Day free trial.
Yep, no more worrying about keeping track of every receipt and business card that I receive when I'm at a conference! I just take a picture of the receipt or card as soon as I receive it and within a day or two all of the data from the receipt or card is inputted in my Shoeboxed account.
I'm happy because if I lose a receipt it's okay, and Ryan's happy because no matter what I end up bringing home in my wad of receipts that I stuck in my purse, he has all of the data from them already! 🙂
They have a "forever free" option where you can upload 5 documents per month, but if you think you might need more than 5 receipts per month scanned (i.e. if you have a lot of business expenses) then be sure to sign up for the 30 day free trial of their premium plans!

#9: FREE Wi-Fi Finder App
This is one that I found this year and since we work wherever we travel it's a lifesaver for us!
Instantly find FREE Wi-Fi Internet hotspots wherever you are in the world online or offline!

JiWire's Global FREE Wi-Fi app uses your iPhone's GPS and network triangulation capabilities to locate free Wi-Fi Internet access.
According to the reviews, it also shows all of the free wi-fi spots that you can get with Comcast and you can't filter those out. So if you're not a Comcast customer that might get frustrating.
If you generally know which restaurants typically have free wi-fi though then you can filter through the results yourself to find the ones that are truly free (and of course, you can always call a location before going too!) 🙂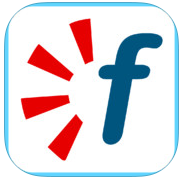 BONUS #10: Favado App
One of the ways that we save when we travel is by going shopping at grocery stores for breakfast/lunch/dinner rather than going out to eat.
No matter where you are in the country, the Favado app can show you the best deals at whatever grocery stores are near you! Just enter your zip code to see all of the deals at the grocery stores in that area.
What travel apps could you not live without?
IMPORTANT NOTE: Please do not use any of these apps while you are driving. Someone emailed me that the picture at the top of the post encourages using your phone while driving, and that was definitely not my intent. Always stop at a safe location before pulling up these apps on your phone.