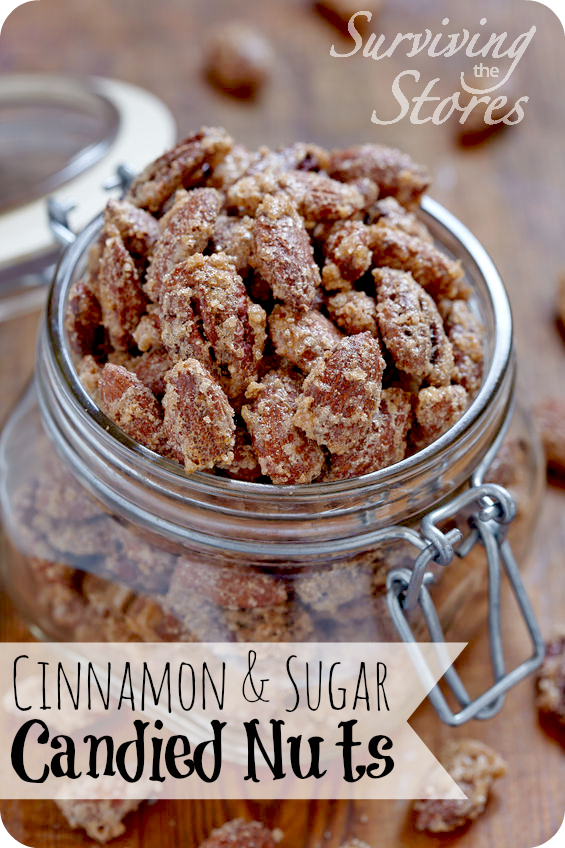 I remember the first time I saw a kiosk at the mall with candied nuts. I was in college and the incredible smell immediately drew me in.
They were offering samples, and OH MY!! Yes, they did taste as good as they smelled.
"Um, how much did you say it was for one of the small cone-shaped bags? $5? For one small bag? No, thanks. Maybe later."
How I wish that I would've known that I could make the same goodness at home with just a few ingredients! On second thought, it probably was good that I didn't know because I would've eaten this stuff by the BUCKETS.
Candied nuts are super easy to make, everyone is happy to get them as a gift for the holidays, AND you can even "paleoify" them for your Paleo friends! (Paleoify is a word, right? If not, it should be!)
You can also play around with the amount of sugar and cinnamon in the recipe below. Some people prefer the coating to be lighter, and some prefer it to be heavier.
Cinnamon Candied Nuts
Author:
Rachel @ Surviving The Stores
Ingredients
4 cups of your favorite nuts
1 egg white
1 Tbsp. water
¾ cup granulated sugar, brown sugar, OR raw honey
1½ tsp. ground cinnamon
½ - ¾ tsp. salt
Instructions
Preheat the oven to 275 degrees F
Put the egg white and water in a large glass bown and beat until frothy
Add the nuts and coat well with the egg white mixture
Mix together the sugar, cinnamon, and salt
Add the sugar mixture to the nuts and egg white mixture and stir well to coat evenly
Line two cookie sheets with parchment paper, and spray with choice of cooking spray
Transfer the nut mixture into a single even layer on the cookie sheets
Bake for around 60 - 80 minutes, stirring EVERY 15 minutes!
Remove the cookie sheets from the oven and transfer the nuts to another bowl or cookie sheet so that they don't stick to the parchment paper
ENJOY!
Here are some great jars if you want to give this as a gift this year! Just tie a cute ribbon around the top and everyone will love it!
For more great ideas, follow me on Pinterest!
Visit Rachel @ SurvivingTheStores.com's profile on Pinterest.