I brought a few shirts to the dry cleaners about a year and a half ago because they had some grease stains on them and I had tried and tried to get them out without any success.
I was fully prepared to pay the $2.00 per shirt at the dry cleaners (much less than buying a new shirt, right?) but the very nice lady at the dry cleaners said, "Oh, you can just use some Dawn Direct Foam on that and it will come right out!" Well not only did she create a customer for life (or at least as long as we are living in this city) but she gave me some knowledge that has saved MANY shirts from ending up in a garage sale or at a thrift store (or at the dry cleaners).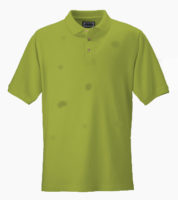 So when your shirt looks like the shirt pictured above, just put a little Dawn Direct Foam (or another similar product) on each spot, let it sit a few minutes, and then wash as usual! The grease stains disappear like magic!
This also can come in handy if you are garage sale or thrift store shopping and you find shirts with oil or grease stains. You can pay the 10¢ to buy the stained shirt with confidence, knowing that the shirt will look as good as new after you're done with it! 🙂

For all of the latest hot deals, printable grocery coupons, store deals, restaurant & retail coupons, freebies, samples, and a lot more be sure to sign up for the Surviving The Stores Email Newsletter, Like STS on Facebook, and follow us on Twitter & Pinterest!