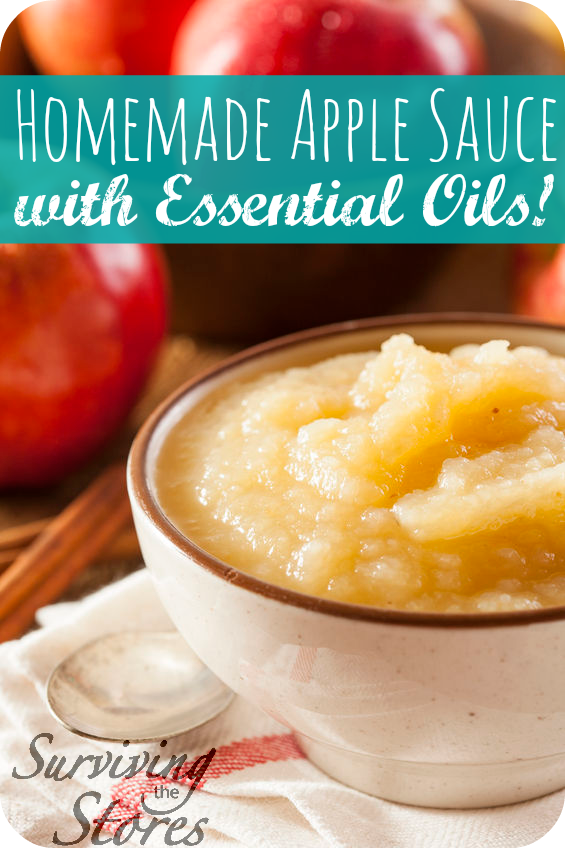 I've been experimenting lately with all of the different ways to use essential oils, and one of my new favorite things to do is add them to food.
I have some yummy recipes using essential oils in the works to post (tonight I made gluten-free pumpkin brownies with clove and cinnamon!) so be sure to come back regularly (or just follow me on Pinterest or Facebook) to see when I post a new essential oils recipe!
This applesauce recipe below is absolutely amazing. The lemon helps to keep it from turning brown, and the drop of cinnamon adds such a nice flavor!

Homemade Apple Sauce With Essential Oils!
Author:
Young Living Essential Oils
Instructions
Peel and core your apples (this handy tool here makes it super easy!)
Chop the apples into about 8 large chunks per apple
Combine all ingredients in a large pow and bring to a low simmer.
Cover the pot and cook for 30 minutes
Let cool, then mash with a potato masher or puree with an immersion blender
Plus, lemon and cinnamon are great for all kinds of other things too!
Cinnamon is thought to promote healthy cardiovascular and immune function!
And lemon has all kinds of other great uses too! Here are some fun facts about lemon essential oil!
It takes approximately 75 LEMONS to make one 15 ml bottle of Lemon Essential Oil.
Lemon Essential Oil contains the naturally occurring constituent LIMONENE.
Lemon Essential Oils is COLD-PRESSED from the rinds of Citrus x limon fruit.
The Lemon Tree is an EVERGREEN tree and grow to be about 20 feet tall.
The Lemon Tree likely ORIGINATED in China or Northeast India.
Lemon Essential Oil is a MUST-HAVE for every kitchen!
Lemon EO can be substituted in any RECIPE that calls for lemon juice, lemon extract, or lemon zest.
Lemon is incompatible with most plastics and all styrofoam containers, so if you decide to add lemon essential oil to a drink, ALWAYS use a GLASS or STAINLESS-STEEL container.
Lemon BLENDS well with other citrus oils as well as Rosemary, Basil, and Ginger. When you use stronger essential oils in cooking (like Basil and Ginger), don't even use a full drop. Just stick a toothpick into the bottle of oil and use that amount instead.
Lemon Essential Oil may support healthy circulatory and respiratory systems.*
Follow my Essential Oils Pinterest board below!
Follow Rachel @ SurvivingTheStores.com's board How To Use Essential Oils! on Pinterest.
*These statements have not been evaluated by the Food & Drug Administration. These products are not intended to diagnose, treat, cure or prevent any disease.