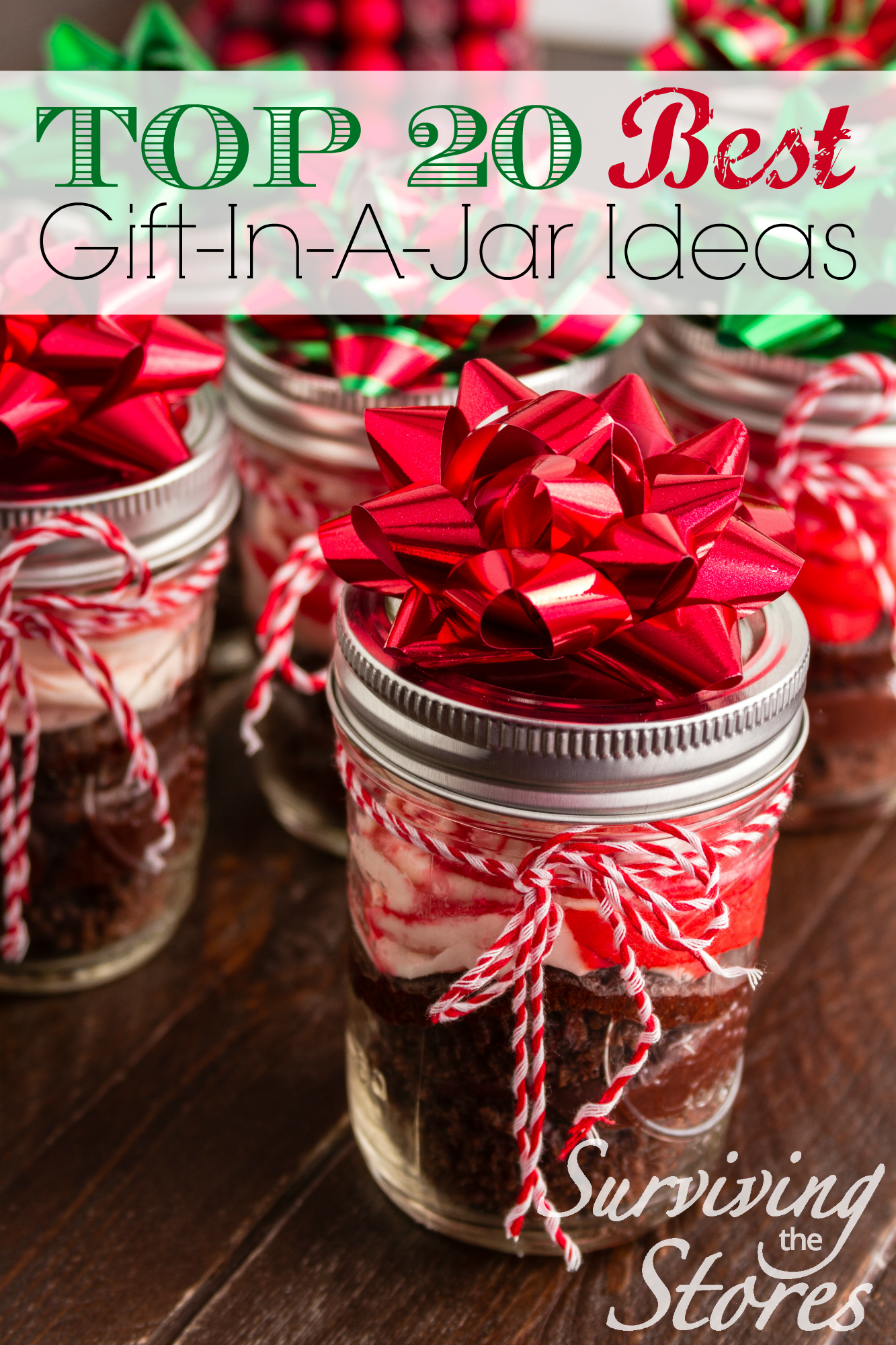 It's usually around this time of year that many of us watch our list of people to buy gifts for grow and grow…and we wish that we had a creative, meaningful, handmade gift idea that people would love without making a huge dent in our wallets! I am always impressed by gifts in a jar- they are unique, personal, pretty and useful at the same time 🙂
Here are 20 of my favorite gifts in a jar ideas with my top 5 unique ideas at the top!
Just click on any of the images below to repin them to your Pinterest account! And don't forget to…
1. Pamper Yourself Gift Jars– These adorable jars filled with bath and body items are perfect for so many people…and they are filled with items that we often can buy for FREE or deeply discounted with coupons! What woman wouldn't love this gift, and how much fun would they be just to put together?!?
2. Apron in a Jar– Do you have a recipe that you are known for or want to flaunt? Turn it into a shabby chic gift super easy by printing it out on a cute note card and placing it in a jar with a sassy apron! The recipient will love it and it couldn't possibly be easier!
3. Play Dough Snowman Jars– Do you have any children on your lists whose parents swear up and down they do not have room in the house for one more toy? This idea is perfect and can be used to keep kids busy on a snowy day at home! The recipe for the playdough is simple, and decorating the jars can be a fun craft that your own kids can help out with!
4. Sewing Kit in a Jar- If you have a crafty person on your list, this is a great gift idea! It's just so pretty to look at…I would have to use it as a decoration because I would feel bad taking anything out of it! 🙂
5. Homemade Pancakes in a Jar– Edible gifts in a jar are really popular, and your options are endless! You can put anything from dry ingredients for cookies, cocoa, soups, breads, or in this example pancakes, along with instructions in a cute jar with embellishments and you are set! It's such a great way to give a handmade gift that people will actually use…and it won't set you back more than a few dollars and a little bit of your time 😉
6. Cinnamon Honey Butter In A Jar
8. Curried Lentil Soup In A Jar
11. Butterscotch Pecan Cookie Mix In A Jar
12. White Chocolate Peppermint Fudge In A Jar
13. Double Chocolate Brownies In A Jar
17. Chocolate Chip Oatmeal Quick Bread In A Jar (and I love that they used a milk jug!)
19. Homemade BBQ Sauce In A Jar
20. Caramel Bourbon Vanilla Sauce In A Jar
Find gifts in a jar labels here!
For all of the latest hot deals, printable grocery coupons, store deals, restaurant & retail coupons, freebies, samples, and a lot more be sure to sign up for the Surviving The Stores Email Newsletter, Like STS on Facebook, and follow us on Twitter! Be sure to also follow our recipes and other DIY finds on the STS Pinterest Page!