Zucchini noodles sound, at first, like a very unusual idea indeed. Especially if you grew up eating mushy zucchini (like me!) You have to wonder – how can such a floppy vegetable retain the shape of a noodle?
The answer is very simple – don't overcook it! I saute my zucchini noodles over very high heat, very quickly – basically stir frying them.
These zucchini noodles are a great alternative to pasta for those who are eating gluten free or low carb. When cooked al dente (cooked but still firm,) zucchini noodles hold up well enough to even handle sauce.
I love to eat zucchini noodles fresh out of the pan, with no addition other than parmesan. My kids eat them happily and even fight over who gets to use our spiralizer. If you don't have a spiralizer, you might want to look into a mandoline. Our spiralizer has been well worth the investment.
THM-FRIENDLY: For those who are doing the Trim Healthy Mama plan, this recipe works very well with THM. This recipe would be classified as an "S."
Gluten-Free Zucchini Noodles Recipe - Grain-Free, Low Carb, & THM!
This Gluten-Free Zucchini Noodles Recipe is grain-free, low carb, & Trim Healthy Mama (S) friendly! Great substitute for pasta, cooks up in just one minute!
Author:
Patti @ Blossoms and Posies
Ingredients
1 zucchini
1 tablespoon butter
1 clove garlic, peeled crushed or minced
Instructions
Wash zucchini and slice off ends.
Create zucchini strands with spiralizer or mandoline.
Preheat pan on high and melt butter to cover bottom of pan.
Working quickly, place crushed garlic and zucchini in very hot pan.
Stir continuously for about 1 minute.
Remove from pan immediately and place on plate.
Do not overcook! Zucchini should be al dente.
Serve with freshly grated parmesan cheese or your favorite sauce.
Be sure to follow us on Pinterest for more great recipe ideas!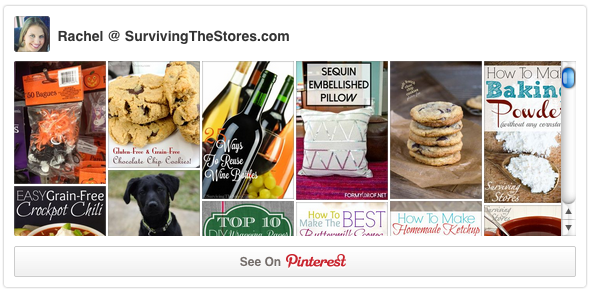 Patti Brown is a wife and mom who loves to play in the kitchen. Her three children and husband are usually happy to try her inventions, and even join the fun. Their kitchen is the busiest room in the house!Patti and her daughter write about cooking, handcrafts and their latest home arts projects at their blog Blossoms And Posies.

Read more about Patti here! >>