Now that school is about to be in full-swing again (and already is for several school districts), I wanted to share this awesome resource for saving time and money… even while eating Gluten-Free!
My friend Erin has created a complete plan with everything that you need to make 20 gluten-free meals in your crock-pot for under $150. And you can get all of the ingredients at your local Costco store!
Keep in mind that the Costco prices included in the plan are the prices here in Texas, so they might vary a little by region. You can see a full list of current Costco prices on our Costco price list page!
All you need to assemble all of the freezer cooking bags is 2 hours on the weekend. In that two hours you can put together EVERYTHING that you need for a month's worth of weekday dinners. Then each day throughout the month, just take out the freezer bag that you already prepared and dump it into the crockpot in the morning! Super easy!
Here's what it ends up looking like!
I've actually been looking for a new slow cooker (mine finally bit the dust this year), so I'm looking at getting this one here that Erin highly recommends.
Erin has made the whole process super easy and has put everything you need together in a downloadable package!
Here's everything that comes in the package:
(1) Printable Assembly Instructions – step by step guide to pulling all these meals together and into the freezer
(2) Printable Assembly Cards – so you don't forget any ingredients in each bag
(3) Printable Labels – you can print these out onto Avery #6874 label paper and stick them to your plastic baggies or containers.
(4) Exclusive Access to the 3 Instructional Assembly Videos – Erin takes you through ALL two hours of assembling your meals!
(5) Recipe List & Grocery List!
The recipes included sound amazing too!
Recipe List
Each pack in this plan is DOUBLED. The ten meals in the meal plan make 20 packs total and each pack serves a family of 4.
Slow Cooker Chicken with Apples & Rosemary
Slow Cooker Pork Chops with Apples & Sweet Potatoes
Slow Cooker Sweet Potato Chicken Curry
Slow Cooker Italian Chicken
Slow Cooker BBQ Chicken & Potatoes
Slow Cooker Sausage, Peppers, Onions
Slow Cooker Italian Stew Roast
Slow Cooker Beef Stew
Slow Cooker Chicken Tortilla Soup
Slow Cooker Chicken & Sausage Stew
You get ALL of this (all of the videos, cards, labels, plan, price sheet, shopping list, and more) for just $5!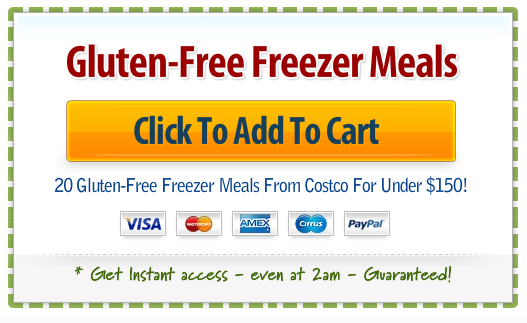 And this plan will save you a lot more than $5!
If you just want the recipe and grocery list, then you can get those for just $2.49 here, but you miss out on the assembly instructions, videos, labels, and all of the other benefits of the full package!