If you are looking for a crowd pleasing chicken recipe, you should definitely try Chicken Taco Meat! This is one of my most tried and true recipes. My kids love it, I serve it to company, and Chicken Taco Meat has been very popular with new moms when I bring it along with all the fixings for tacos!
One of my favorite things about Chicken Taco Meat is how flexible a dish it is. I sometimes serve it with tortillas, lettuce, tomatoes, salsa, and cheese for chicken tacos. Other times I serve it on lettuce (with the fixings!) for a delicious chicken taco salad. I have even included it in casseroles.
For fix-your-own tacos and salads, I like to put out:
shredded Chicken Taco Meat
lettuce (cut large for salads or shredded for tacos)
chopped tomatoes
chopped avocado
diced onions
shredded cheese
chopped cilantro
sour cream
salsa
tortillas (for tacos!)
I like to bake my Chicken Taco Meat in the oven, because I think the flavors are more intense, but I have also made it in the crockpot. If you prefer to use a crockpot, just cook it for four hours on high, then shred the meat.

Gluten Free Chicken Taco Meat Recipe - Low Carb & Grain Free!
Chicken Taco Meat is gluten free, low carb and grain free! Tastes amazing on a big salad - add to lettuce along with tomatoes, salsa, cheese and sour cream. Or put out tortillas and make chicken tacos!
Author:
Patti @ Blossoms and Posies
Ingredients
1 tablespoon onion powder
2 teaspoons salt
2 teaspoons chili powder
1½ teaspoons garlic powder
½ teaspoon oregano
1 teaspoon cumin
4 chicken breasts
½ cup chicken stock
(optional: use 3 T pre-made taco seasoning instead of above spices)
Instructions
Preheat oven to 350°
Combine all spices in a small bowl.
Place chicken breasts on baking pan.
Sprinkle most of the spices on the chicken breasts.
Pour chicken stock gently over spiced meat.
Sprinkle remaining spices on chicken breasts.
Bake for around 40 minutes, or until meat reaches 165°
Shred meat with two forks and serve with taco fixings.
Be sure to follow us on Pinterest for more great recipe ideas!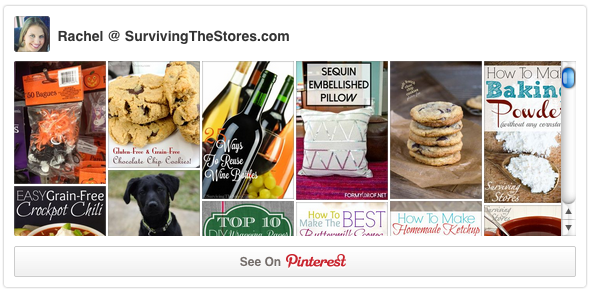 Patti Brown is a wife and mom who loves to play in the kitchen. Her three children and husband are usually happy to try her inventions, and even join the fun. Their kitchen is the busiest room in the house!Patti and her daughter write about cooking, handcrafts and their latest home arts projects at their blog Blossoms And Posies.

Read more about Patti here! >>