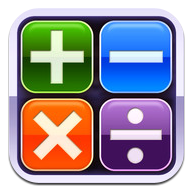 Here is a great looking FREE iTunes App available: Math Academy – Tag! Here is a description of the app from the developer:
The App Gate presents Math Academy: a highly polished app that helps kids practice addition, subtraction, multiplication and division at an elementary level. As the student practices math, they are awarded coins for correct answers. Coins are used for unlocking stickers within the sticker collection! Collecting stickers is a fun way to encourage kids to keep practicing math!
This free itunes app is available for iPhone, iPod, and iPad and has great reviews! I'm not sure how long this will be free, so I would download it now while it is available. This looks like a great help also in homeschooling for free! 🙂
More great Freebies!
(Thanks, Freebies 4 Mom!)