The following is a guest post from Sarah at Renaissance Mama!
**Please note: If you buy DE to consume internally, BE SURE you get food grade as other types can contain arsenic. Yikes!**
---
The ants are gone!!! You might remember from my previous postthat I had quite an army of ants parading through my kitchen. Since squirting them with dish soap and squishing them wasn't winning the war, we pulled out the big guns.
Diatomaceous earth.
Seriously.
Do any of you remember studying diatoms in science class? It's basically dirt that's composed of finely crushed fossilized diatoms, a type of hard-shelled algae. DE is approximately 3% magnesium, 33% silicon, 19% calcium, 5% sodium, 2% iron and contains many other trace minerals such as titanium, boron, manganese, copper and zirconium.
Isn't it pretty under the microscope?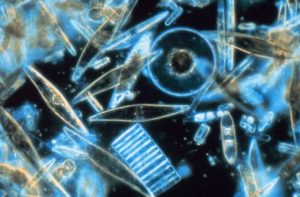 We sprinkled it along our window edge where the ants seemed to be coming in. By the next morning, we had just a couple of brave souls. By that afternoon, they were gone! I cleaned up the dirt a few nights ago, and we are still ant-free!
I am so excited to have a natural alternative to use in place of a heavy-duty chemical. Many of the heavy chemicals we are accustomed to using have natural alternatives that are just as effective at their jobs, if not more so.
Not Just For Ants
Diatomaceous earth is a heavy-hitter. It has applications for bugs, parasites, and in aiding in bone and joint repair. In addition to ants, it has also been used for bedbugs, silverfish, box elder bugs, scorpions, crickets, and many others. (Thankfully, not at my house. Other people got to test it on those creatures.)
I've heard a couple of different reasons for why it is so effective against bugs. One is that the microscopic particles are actually really sharp, like broken glass. The bugs get cut up when they walk through it, so they stay away. According to Wikipedia, DE even absorbs the liquid from the bugs' exoskeletons and dehydrates them. It's so absorbent, in fact, that the US Center for Disease Control recommends it for cleaning up toxic waste spills.
For Our Pets
DE can be used as a flea and tick repellent by sprinkling it in the yard or on their bedding. It can also be used as a dewormer for both pets and livestock. Arbico Organics says that "DE may be fed on a continuous basis to larger livestock for both parasite control and mineralization. [It] is an excellent source of organic silica and a few trace minerals. The animal's digestive system is not harmed by its passage; in fact, it has been proven to aid in the absorption of calcium and magnesium." The WholeDog.com says you can just sprinkle DE on their food.
Hooray for a natural organic dewormer, especially since parasites are becoming resistant to commercial dewormers.
For Us
Our naturopath doctor recommended DE for internal parasites. He gets all the credit for introducing us to this very robust product. DE is approved by the FDA for internal and external use as a Food Grade Chemical (a non-toxic, organic 'chemical' at that). We add 1 tablespoon to about 4 ounces of orange juice, and drink it up. It does take a bit of getting used to…
In addition to being powerful against parasites, good ole diatomaceous earth delivered a surprise. A friend started taking D.E. for the parasite cleanse as mentioned above, and found that his chronic knee pain had disappeared. He had been told that the only alternative to relieving his pain was surgery, and he was both shocked and thrilled at the relief he experienced. When he quit taking it, the pain came back. A return to a regular dose of DE provided incredible relief for his knee pain. It turns out that silica is needed for collagen formation. The added DE supplement enabled his knee to heal itself!
You can buy a big, food grade, bag at the feed store for around $15. You can also get it online on Amazon if your local store doesn't carry it (and the prices there look to be pretty good too).
Have you ever used diatomaceous earth? What sort of success have you had with it?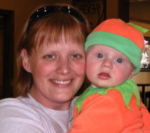 Sarah graduated from Baylor with a major in bioinformatics and is now making that degree work hard by raising her two kiddos and keeping her husband relatively well fed. In her quieter moments, she can be found riding her horse and blogging at
Renaissance Mama
(though not usually at the same time)
DISCLAIMER: THE INFORMATION ON THIS SITE IS NOT INTENDED OR IMPLIED TO BE A SUBSTITUTE FOR PROFESSIONAL MEDICAL ADVICE, DIAGNOSIS OR TREATMENT. PLEASE CONFIRM ANY INFORMATION OBTAINED FROM OR THROUGH THIS WEB SITE WITH OTHER SOURCES, AND REVIEW ALL INFORMATION REGARDING ANY MEDICAL CONDITION OR TREATMENT WITH YOUR PHYSICIAN. NEVER DISREGARD PROFESSIONAL MEDICAL ADVICE OR DELAY SEEKING MEDICAL TREATMENT BECAUSE OF SOMETHING YOU HAVE READ ON THIS WEBSITE. THIS INFORMATION IS NOT INTENDED TO DIAGNOSE, TREAT, OR CURE ANY DISEASE.