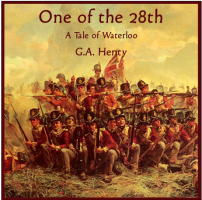 We were going to feature this in the Freebie Friday Round-up coming a little later today, but wanted to let you guys know about this awesome freebie right now aver at Homeschool Freebie of the Day!
You can download 20 G.A. Henty Audiobooks completely free! G.A. Henty educates about history through the telling of stories which is just about the funnest way I think you can learn history.
Here a few of the books available:
Among Many Pirates
In Freedom's Cause
One of the 28th – a Tale of Waterloo
The Cat of Bubastes
Through Russian Snows
True to the Old Flag
Head over to Homeschool Freebie of the Day for more: Free G.A. Henty Audiobook Downloads.