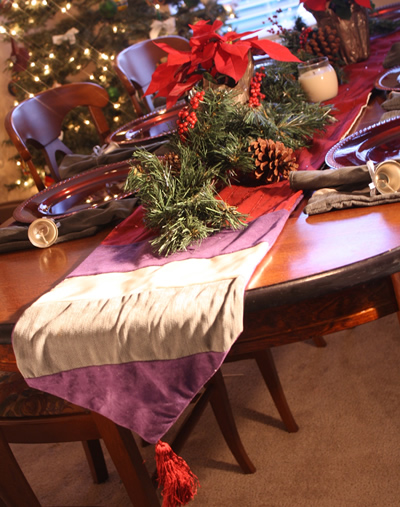 I LOVE Christmas decorations! Love love love them! And the holiday smells too. Cinnamon, cloves, vanilla… COOKIES… well, you just can't beat them!
But decorations can be expensive and retailers do everything they can to convince us that we need to keep buying more from them… at full price.
So how do you save and still have a fun and festively decorate house?
I'm sure you guys have some awesome suggestions and I'd love to hear them in the comments below too!
Here are my top two suggestions:
1. Buy your decorations for next year RIGHT after Christmas. You can get super nice stuff for 75%… even up to 90% off after Christmas and you'll be ready for next year! Pretty much everything Christmas-related gets majorly discounted and I've always found lots of great items (my favorite is probably the Target after Christmas sale).
Pretty much all of my decorations are either from clearance sales, garage sales (you can find a ton of stuff at garage sales!), and things I've made myself! Which brings us to #2…
2. Make decorations yourself! I have been amazed at some of the things that I've found crossing my Pinterest path recently. Pinterest is such an awesome resource for, well, pretty much everything. I've seen everything from homemade ornament wreaths, to homemade advent calendars, to homemade ornaments. In fact, if you just search "Homemade Christmas Decoration" you'll find a TON! And be sure to follow me on Pinterest too! 🙂
Another great resource is the awesome list of Homemade Christmas Gifts over at The Happy Housewife! Toni is going through and listing out 100 different things over the course of the holiday season that you can make yourself for LESS! You can use them as gifts OR for YOU!
Be sure to also check out the awesome list of Decoration ideas over at Songbird!
I was actually pretty proud of myself for making the table runner and placemats a few years ago that are pictured above at the top of the post! Those who know me know that I am FAR from a seamstress, but making a table runner and placemats was SO easy. I really encourage you to try it! And if sewing seems overwhelming to you, maybe try some of the free online sewing lessons available! 🙂
I've left a ton of room here for y'all to chime in with your ideas! Feel free to leave a comment below in the comments section with more ideas!
Be sure to check out all of the other AWESOME blogs that are participating in the 12 Days Of Christmas series:

Christmas Homeschool Fun: 1+1+1=1
Christmas Decorations: Songbird
Tips for a Healthy Holiday: The Thrifty Mama
Travel Tips: Mom's Travel Tales
Christmas Recipes: Lynn's Kitchen Adventures
Christmas Family Fun: Life as Mom
Homemade Christmas Gifts: The Happy Housewife