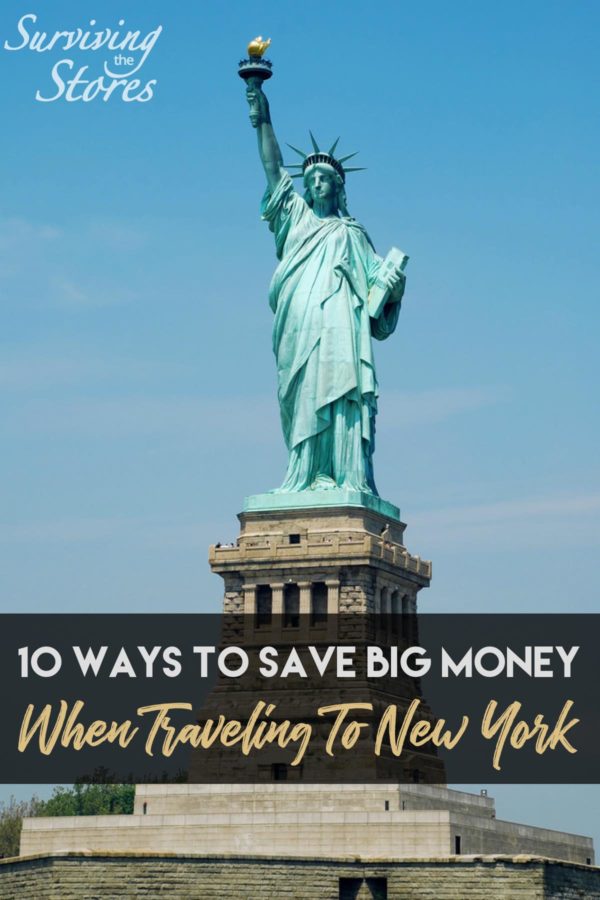 The first time I went to New York City was when I was 14. Our high school choir took a trip to New York to sing in Carnegie Hall and the trip was one of the highlights of my high school years!
After that trip I told everyone I could that one day I would live in New York City.
I'm not quite sure what this Texas girl was thinking! I don't think I would've fit in at all with the fast-paced New York City lifestyle, but it was fun for a 14 year old to dream about moving there one day.
I still love to visit New York City whenever I get a chance to, so I wanted to share some of my favorite ways to save when visiting! A trip to NYC can easily get pricey very very quickly, so hopefully this will help you to stay on budget as much as possible.
If you have any other ideas or tips, please leave them in the comments below and we can create a huge list together. 🙂
1. Take a FREE tour! Did you know that NYC has TONS of free tours? Central Park is by far one of my favorite places in NYC and it's completely free to tour! The High Line also offers free tours starting at the Chelsea Market Passage. The Federal Reserve Bank, Union Square, Brooklyn Brewery, and several other areas of town have free tours provided by volunteers. You can check out the list of free New York tours! The Downtown Boathouse also offers free New York City kayaking from May through October for all ages!
2. Get to know the NYC Subway System! You'll also want to download the New York Subway MTA Map and Route Planner app. Taking taxis or Uber cars adds up very quickly and most of the time, taking the subway is even faster than taking a taxi since the traffic seems to always be backed up. I also highly recommending using the Trip Planner website. Just remember to open the trip planner up on your smartphone BEFORE you go underground since you likely will not be able to get cell reception. You'll want to also print out a physical subway map here too, just in case you need it. Anytime that I've been confused at a subway station, there has always been someone willing to help point me in the right direction, so don't be afraid to ask for help. You can get more information on How To Read Subway Signs.
Be sure to buy a Subway Pass if you'll be there at least a week.
3. Find a hotel with a full kitchen! I know, that's tough to do in NYC! But you will save A TON in food costs by having a full kitchen, or at the very least, a refrigerator in your hotel room. The last time I stayed in NYC I stayed with friends at the Residence Inn World Trade Center and it was perfect! There was a FULL kitchen in each room, and since the food in NYC is so expensive, that can save a good amount of money on meals and snacks! Plus, the full-size fridge is great for brining dinner leftovers home to eat for lunch the next day. I haven't found a hotel yet that I like as much as The Residence Inn World Trade Center – the beds were very comfortable (and I'm picky, so they really were comfortable) and it was right by the Fulton Street subway station so we were easily able to take the subway up to Midtown when we needed to.
4. Stock up your hotel room refrigerator! The prices of going out to eat are astronomical in NYC, but the grocery store prices are much higher than other parts of the country as well. If you're driving in, then I definitely recommend bringing as much food from home as you can, but if you're flying then you'll likely not have enough space in your luggage to bring all that you want to bring. You can buy snacks and lunch items from Amazon and have it shipped directly to your hotel instead of packing it! It will stay at the front desk until you get there. Just give the hotel a call before you arrive to let them know that you will be expecting a package. Going this route lets you have what you need without worrying about bringing extra suitcases or going over the 50 lb limit! Paying a package pick-up fee is usually MUCH less than an overweight baggage fee.
5. Pay-What-You-Wish Days! Check out the "Pay-What-You-Wish" days at various museums and attractions. The Bronx Zoo is Wednesdays, the Brooklyn Botanic Garden is all day Tuesday and from 10 am – noon on Saturday, and the Guggenheim Museum is Saturday from 5:45 – 7:45 pm. Plan your sight-seeing around those days to save! You can find more Pay-What-You-Wish days here. There are also several museums that are always "suggested donation" only.
6. Take the Staten Island Ferry! Seeing the Statue of Liberty is one of the highlights of a trip to New York! I will never forget the first time I saw her at 14. There are lots of expensive harbor tours that are available to take in the New York Harbor, but the Staten Island Ferry is completely FREE! You'll get to see the entire Harbor area including the Statue of Liberty! When I stayed at the Residence Inn World Trade Center a couple of months ago, the Ferry station was just a very short walk from the hotel.
7. Plan ahead for the meals you want to eat out! You likely will want to eat out in New York City at least some of the time, even if you pick a hotel that is set up to allow you to store food and cook in your room. I highly recommend planning a meal schedule with where you want to eat so that you can do plenty of research ahead of time and even see if there's a Groupon or another voucher available for good restaurants in the area you will be in that day. Just be sure to ALWAYS check the Google or Yelp reviews before purchasing a discount voucher for a restaurant.
Staying near a college campus can also be really helpful for your dining choices. Many restaurants around colleges have inexpensive food so that the struggling college students can afford it. There are several restaurant options around NYU, which is just a quick subway ride from the Residence Inn World Trade Center.
Also check out NewYorkStreetFood.com for some great Food Truck options!
Another way to save on dining is to eat a little early and take advantage of Happy Hour food prices.
8. Bring your own portable water filter bottle! Bottles of water in New York City can rival theme park prices, but city water quality and taste isn't something I enjoy. So whenever I travel, I bring a portable water bottle with a great filter so that I can fill it up at any sink or drinking fountain and still enjoy completely clean water. Before our trip to Europe this summer (thanks to Young Living!) I bought these Berkey water filter bottles. I could fill my bottle up anywhere and never had to worry about getting sick from the local water.
9. Fly into JFK and take the subway! Cab rides from the airport can be expensive, so you can save a good amount of money by just taking the subway if you fly into JFK. Just follow the signs for AirTrain and it'll drop you off at the Subway station. Then take the subway line that you need from there (again, be sure to get the Subway app!)
10. Find a hotel that provides complimentary breakfast! I know, that's tough to do in NYC! Hotels routinely charge $20+ for just a simple breakfast buffet, so finding a hotel with complimentary breakfast could save you a ton. Yelp is usually my favorite place to check for this, but I know for sure that the Residence Inn World Trade Center has an amazing HOT complimentary breakfast buffet!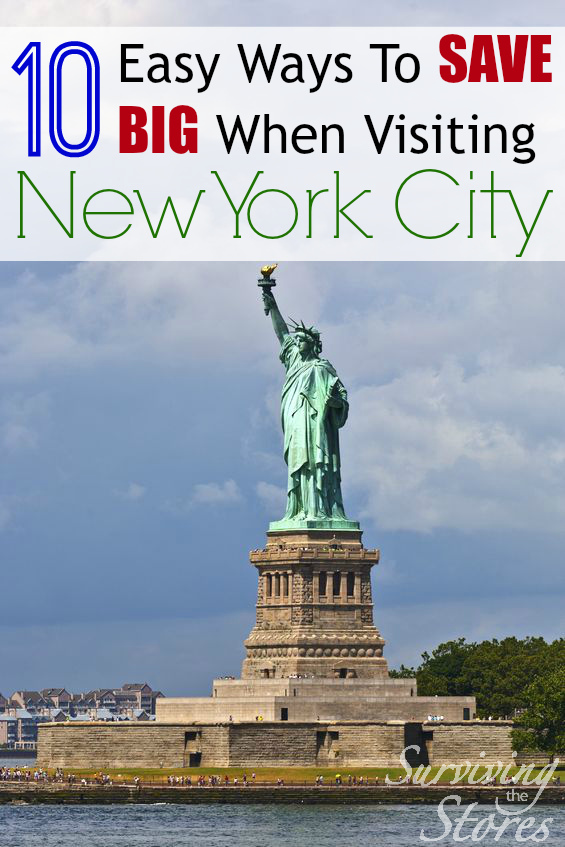 Check out these other two posts with even MORE ways to save in New York City!
Tips, Tricks, & Secrets to save in New York City