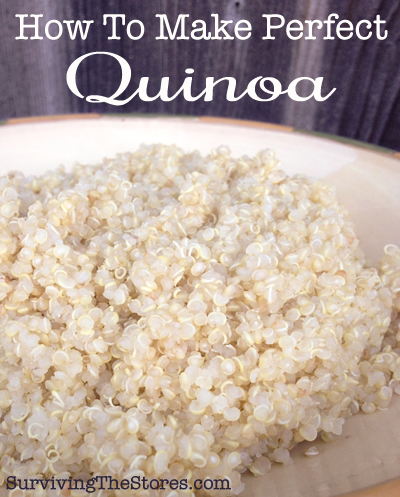 Last year I was working on the coupon matchups for Sunflower Farmers Market (now Sprouts) and I had a question about the price of their quinoa. I called the store and asked the guy who answered what the price was on the bulk "quehn-oh-uh". "I'm sorry, could you say that again?" "Um, quehn-oh-uh? It's spelled q-u-i-n-o-a." "OH, "keen-wah". Yes, just one minute."
I learned how to say it that day, but I didn't venture out to actually try cooking it until this year. To be honest, it kind of scared me a little. I had known about quinoa for a while but had never even had it, much less tried to cook it, so it took going grain-free for me to give it a go.
I watched some youtube videos on how to cook it and it's actually very easy to make and doesn't take much time at all. AND, I think it tastes great!
Quinoa is perfect for a grain-free lifestyle!
It is a pseudocereal rather than a true cereal, or grain, as it is not a member of the true grass family. As a chenopod, quinoa is closely related to species such as beets, spinach and tumbleweeds. –Wikipedia
I use Quinoa instead of rice and noodles, or as a side dish all on its own. It's also a great addition to salads!
Here's how to make perfect quinoa:

How To Cook Quinoa - Make Perfect Quinoa In Under 30 Minutes!
Author:
Rachel @ Surviving The Stores
Ingredients
1 cup Quinoa
1½ cups water
salt to taste
Instructions
Rinse the quinoa through a metal strainer with very small holes.
Put the rinsed quinoa in a skillet and turn the burner on medium heat.
Stir the quinoa around in the skillet until dry, and then continue stirring while the quinoa cooks in the skillet.
The quinoa will start to pop a little bit and you'll smell a somewhat nutty smell once it has been cooked enough (I stir it for around 3-5 minutes after it has dried).
Add the water (and salt if desired), turn the heat down to med-low, and put a lid on top of the skillet.
Tilt the skillet lid to the side a little bit so that the steam can escape.
Continue cooking without stirring for 15 - 18 minutes or until all of the water is absorbed.
Fluff with a fork and serve!
I usually make at least 2 cups worth so that I can have plenty leftover to use in another meal later in the week. I typically don't like leftover rice, but leftover quinoa is great!