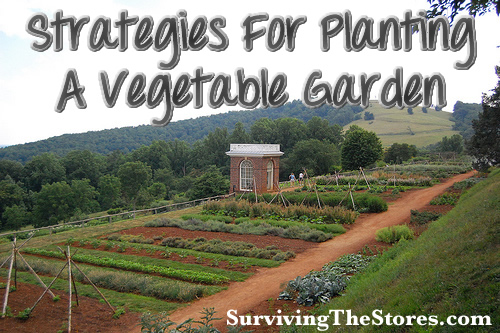 When I started my first garden, my favorite method of planting was to toss seeds randomly into the soil and cover them with dirt. I've since learned that this is probably not the best method, and thankfully, gardeners have developed planting strategies that allow us to have wonderfully productive gardens that make efficient use of space, and don't limit us to planting our seeds in long, straight rows. If you have a lot of space to utilize then the traditional rows might be for you!
But, with many of us growing foods in smaller spaces, new strategies are being developed to grow a maximum amount of food in a minimum amount of land.
In this post, we'll take a look at a few of our planting options, and you can pick one (or several!) that you think will work best for you. With each of these different methods, remember to read the back of your seed packet. You don't want to make the mistake of squeezing too many plants into too small of a space. Your plants would have trouble growing to a good size, and they would be competing for nutrients from the soil. They would also be weaker and thus more susceptible to pests.
One of the most popular methods is called Square Foot Gardening. In this method, the growing space is divided into square foot sections. Each section is filled with a different type of plant. The number of plants per section is dependent on the size of the plant. Check the back of your seed packet! This method helps conserve seeds by not overplanting and thus requiring thinning later. In square foot gardening, "natural pest control methods like companion planting can be more easily utilized, and the variety of plants helps control the spread of disease."
Square Foot Gardening is perfect for anyone who wants a garden with a lot of variety, but who has minimal space available. If Square Foot Gardening is something you are interested in doing, then THE BEST (by far) book out there for it is Square Foot Gardening by Mel Bartholomew.
TRADITIONAL ROWS
Image Source: Southern Foodways Alliance
Other gardeners simply like to go the traditional route of planting their seeds in rows like the photo above from Southern Foodways Alliance (if only I could have a garden that looked like that!) This works well if you have a lot of land to work with. Read the back of the seed packet to find out the needed spacing, and measure from the center of one plant to the center of the other. When the plants grow, their leaves will touch each other.
[Planting equidistantly] results in an efficient use of space and leaves less area to weed and mulch. The close spacing tends to create a nearly solid leaf canopy, acting as a living mulch, decreasing water loss, and keeping weed problems down. However, plants should not be crowded to the point at which disease problems arise or competition causes stunting. – The University of Arizona Ag Dept
INTERPLANTING or Companion Planting


Interplanting is growing in popularity, and I'm definitely a fan. It takes a little more research, but I think it's fun. 🙂 At Hoerr Nursery, Sara mixes flowers with her veggies to help attract pollinators like bees and butterflies as well as beneficial insects like ladybugs. She says it also helps confuse the garden pests who are on the hunt for their favorite food (the above picture is from her site so be sure to check out Hoerr Nursery and click on the picture to repin it to Pinterest!)
The Ag department at the University of Arizona offers some examples to get your brainstorming juices flowing:
Long-season (slow to mature) and short-season (quick to mature) plants like carrots and radishes, respectively, can be planted at the same time. The radishes are harvested before they begin to crowd the carrots. An example of combining growth patterns is planting smaller plants close to larger plants, radishes at the base of beans or broccoli. Shade tolerant species like lettuce, spinach, and celery may be planted in the shadow of taller crops. Heavy feeders, such as cabbage family crops, should be interplanted with less gluttonous plants.
You would be surprised how much you can fit into a container in your yard! And with a container garden it is relatively easy to move a plant to a different location if it's not doing well in one place. Just remember that with a container garden like Emily from Joyful Abode has in the picture above (just click on the picture to pin it to one of your pin boards!), you really have to pay attention to the soil composition, drainage for your pots, and you have to never ever forget to water your plants since they can dry out so quickly in the heat (especially here in Texas!)
ONLINE DESIGN
If you'd like an online program to help you design your garden, Gardeners.com has a great FREE virtual garden program where you can either pick from one of their recommend plans for different types of gardens, or design it from scratch on your own. I like to see things laid out visually and this was an easy way to 'plant', replant, and replant again before I did it in real life!
What's also great about this free program is that not only can you see it visually, but it tells you exactly how and when to plant the different fruits and vegetables, what spacing they need, and how many days until harvest. It's a great tool!

How's your garden planning coming along? Share your design ideas with us!
Related Articles:
| | |
| --- | --- |
| | Sarah graduated from Baylor with a major in bioinformatics and is now making that degree work hard by raising her two kiddos and keeping her husband relatively well fed. In her quieter moments, she can be found enjoying a homemade chai latte and reading on her Nook. You can also find her over at Renaissance Mama, on Facebook, and on Twitter! |