Have I ever told y'all that Ryan and I planned our entire wedding in just 3 weeks?
We were both still in college and we had to plan our wedding around school semesters. Our original plan was to get married the next summer (summer of 2001) but we decided that we didn't want to wait until then and so our only option was to get married between the last summer session and when the fall semester started.
It was a CRAZY three weeks but we definitely saved a ton of money by not being able to plan everything out to the tiniest detail. And there is absolutely nothing that I regret about not having all of the latest and greatest "must-have" wedding items.
I was able to find a florist who could get us on the schedule at the last minute, but I only went that direction because it didn't even cross my mind to use fake flowers instead of real ones! I didn't think that fake flowers would look anywhere as nice as the real thing.
But then a week before we got married we went to the wedding of two of our closest friends and the bride had made all of her bouquets out of fake flowers. And they were BEAUTIFUL! They looked like real flowers, felt like real flowers, and were much much less expensive than real flowers.
Weddings are expensive enough. Food, flowers, the gown, the venue, the clothing, the decorations… everything adds up, so every little bit of cutting costs can help with that final total.
Yes, real flowers look nice, but they will only last for that day and you have the added care & expense of having to make sure they stay a good temperature until after the wedding and don't get wilted and overheated. It ends up being pretty expensive for just a single day's worth of flowers.
BUT, bouquets made with faux flowers not only will look great, but will last a lifetime – AND they are much less expensive than real flowers!
Before I saw the faux flowers at our friends' wedding, I totally would've rejected the idea of fake flowers. So if you are a little hesitant to use them, just at least walk through the faux flower aisle at your local craft store and see the options. There are some excellent selections that look and even feel like real flowers!
If you are interested in making flower arrangements for your wedding, or a friend or family member's wedding, then check out these great instructions from Merissa at Little House Living!
DIY Wedding Bouquets With Faux Flowers
---
To pick the right flowers for your homemade wedding bouquets, make sure to find colors that will match your décor and bridesmaid dresses. Pick at least 2 different styles of flowers that complement each other, take flowers with you around the aisles until you find the right ones for your bouquet.
If you are having trouble…remember that Daisies are good flowers to balance out a stronger flower, such as a rose or a lily. Then find some smaller flowers, similar to Baby's Breath that match your bouquet. These are a filler flower so you don't need too much of them, just enough to add a little pop of color.
You will also need the follow items to put your homemade wedding bouquets together:
Floral Tape
Fabric Ribbon
Wire Cutting Scissors
If you are making bouquets for both bridesmaids and the bride, make sure you have a few extra flowers for the brides bouquet so you can make it a little larger than the bridesmaids' bouquets.
Once your have your flowers picked out and you've brought them home, put them together how you think you want them to look, then hold them in your hands to figure out how long you need to cut the stems (always buy long stem faux flowers so you will be able to hold them together, shorted stems may not fit in). After you determine the length they need to be, use the wire cutting scissors to cut them to the correct length.
Re-arrange your bouquet so the flowers are arranged how you want them to be, then use the floral tape to wrap around all the stems and hold everything together. Make sure to wrap it as tightly as possible.
After you've finished this step, you can use the fabric ribbon to wrap around the base of the bouquet to have something a little bit nicer and prettier to hold. You can cut the ends of the ribbon off right at the bottom or you can leave the ends a little longer to let some ribbon hang down below the bouquet. You may need to use a dot of hot glue at the bottom of the ribbon to make sure it stays in place.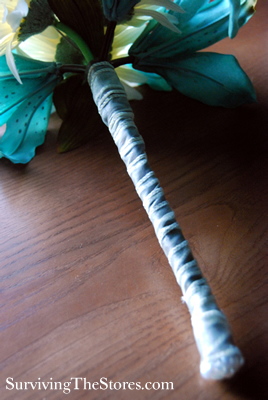 Using this method you can make all the flowers for your wedding! You can even make the boutonnieres for the men, just cut the stems very short and use few flowers (usually just a single large flower and a few pieces of Baby's Breath.)
If you buy faux flowers at full price, they can sometimes end up costing just as much as real flowers, but most hobby and craft stores will offer half price sales on their faux flowers (and ribbons too!), so make sure to wait and watch for those to get the best prices on your wedding flowers.
Also, be sure to check out the current craft store coupons for Jo-Ann's, Hobby Lobby, Michael's, and Hancock Fabrics!
Are you planning on making any of your own homemade wedding décor (or for those of you who are already married, did you make your own wedding decor?)