This recipe is brought to you by our amazing recipe contributor Patti from Blossoms and Posies!
We are huge spaghetti squash fans over here, and when I make spaghetti squash I usually do it just like a cook a pumpkin in the oven. But I'm going to have to try using the crockpot next time!
If you are needing a good crockpot recommendation, this is the one that we really like. It's simple, but gets the job done and I love that it has a lock-down lid.
---
Spaghetti squash is a delicious vegetable and is a great pasta-like option for gluten free eaters. What could be easier than cooking it in your crockpot?
My first attempt at cooking spaghetti squash long ago resulted in a big pile of mushy glop. Ew! I couldn't figure out why anyone would want to eat it. But one day a few years ago I decided to try again – after all, maybe the fault was mine not the squash's. I baked it, careful not to overcook. And yum yum! This time I got it right!
Spaghetti squash became a regular dish in our house. I thought I had mastered the art of this delicious vegetable, until a few weeks ago when a friend shared that she had cooked her spaghetti squash in her crockpot. What?! What beautiful music to a busy woman's ears was this? I gave it a try, and I am sold! My goodness is it easy!
It is important that you pierce the squash all the way to the cavity with a knife a few times so it doesn't explode (this really can happen and it is not pretty!) And be careful when you remove the squash and cut it open – there will be a lot of steam at first (use oven mitts.) But it is so much easier to cut a cooked spaghetti squash than a raw one! And the seeds and strings practically fall out – no effort.
Let us know in the comments if you try it – what do you think of this method?

Crockpot Spaghetti Squash
Crockpot spaghetti squash is so easy - all it requires is that you think ahead a little.
Author:
Patti @ Blossoms and Posies
Ingredients
1 spaghetti squash
1-2 cups water
Instructions
Remove grocery sticker and clean outside of spaghetti squash
Pierce squash 3-5 times with a sharp knife - be sure to put it in deep so you know it is going all the way through the flesh to the cavity inside
Place squash and water in crockpot and cook on high for 4 hours (cooking time may vary depending on your crockpot)
Remove squash (wear oven mitts) and cut in half on cutting board
Scoop out seeds and string and discard
With a fork, gently peel the spaghetti-like layers away from the shell.
Serve (delicious with butter and parmesan!)
Be sure to follow us on Pinterst for more great recipe ideas!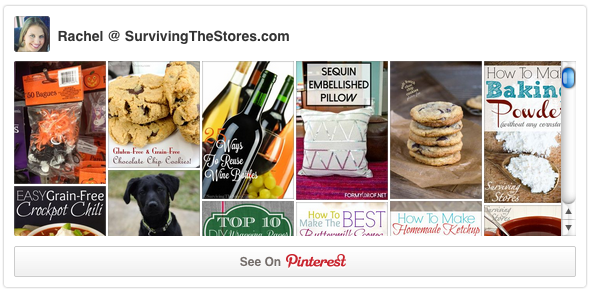 Patti Brown is a wife and mom who loves to play in the kitchen. Her three children and husband are usually happy to try her inventions, and even join the fun. Their kitchen is the busiest room in the house!Patti and her daughter write about cooking, handcrafts and their latest home arts projects at their blog Blossoms And Posies.

Read more about Patti here! >>