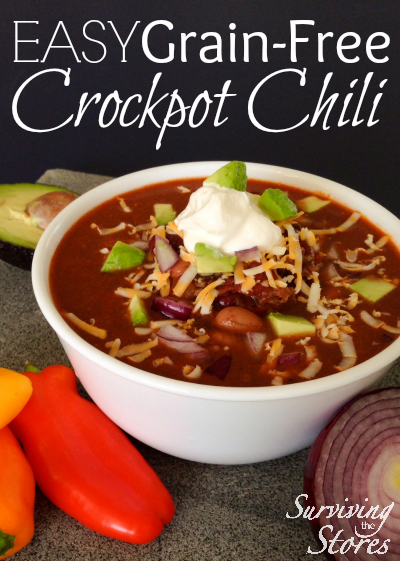 One of my favorite things to eat during these cold winter months is chili. It's down in the 50s right now here in Houston and we need something to help warm up us cold-weather-wimps down here in the South. 😉
This is by far my favorite chili recipe and it's completely grain-free!
Back before Ryan and I were grain-free I would just buy the McCormick chili seasoning packets in the store but it has both Wheat Flour and Corn Maltodextrin so it's now a no-no for us.
But this recipe below is easy, SO good, and very versatile. You can add pretty much anything else that you like in your chili to it.
Ryan and I eat it without any rice, but I always make a side of rice for the kids since they aren't grain-free. Sometimes we'll eat our chili with Quinoa but it's great on its own too.
Easy Grain-Free Crockpot Chili Recipe
Ingredients:
2 lbs ground meat (I like using 1 lb ground beef and 1 lb ground chicken sausage)
2 medium onions, chopped
3 colored bell peppers, chopped
2 cloves garlic, minced
1 Tbsp Chili Powder
1 Tbsp Ground Cumin
1/2 Tbsp Paprika
Salt & Pepper to taste
2 large cans (25 oz each) of your favorite chili beans, or use 4 regular-size cans (I usually use pinto and kidney)
1 large can (28 oz) of crushed tomatoes, or two regular size cans (I like the crushed fire-roasted tomatoes)
1 32 oz box of organic Beef Broth
Instructions:
Sauté the onions and bell peppers in a little bit of olive oil in a skillet over med-high heat.
Add the ground meat and cook thoroughly.
Add the minced garlic, chili powder, cumin, paprika, salt, and pepper to the meat mixture and cook a minute or two more.
Transfer the meat mixture to the crockpot and add the beans, crushed tomatoes, and beef broth.
Allow to cook in the crockpot on low until the flavors are nice and mixed through (at least an hour)
If you'd prefer not to eat food from cans (I'm pretty picky about only buying canned goods that don't have a BPA-lining) then you can use 5 tomatoes roasted at 425 in the oven until they are a little black on the edges AND you can use beans that you've pre-cooked instead of beans from the can.
I love topping off my chili with cheese, sour cream, and diced avocados. SO GOOD!!