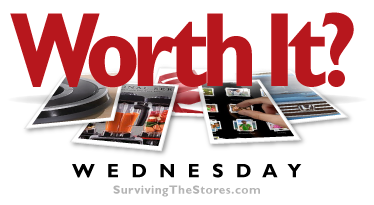 For this week's Worth It Wednesday, let's talk about the Keurig!

We have not jumped on the Keurig bandwagon yet, and I'm not sure we're going to.
We are big-time coffee drinkers at our house, but I'm perfectly happy with our free Gevalia coffeemaker that we got 5 years ago, and paying $100 for something that will end up costing us more with buying the k-cups just doesn't seem justifiable right now.
BUT, I really would love to hear your thoughts on this!
If you've bought, or received as a gift, a Keurig, are you happy with it? Do you think it's worth the money? Do you feel like you are able to find good deals on k-cups?
And if you have another one-cup-at-a-time coffeemaker (like the Tassimo or Breville) do you like it? Do you think it was a good purchase?
Hopefully through this series we can help each other out by sharing our opinions so others can make informed purchases!!
For all of the latest hot deals, printable grocery coupons, store deals, restaurant & retail coupons, freebies, samples, and a lot more be sure to sign up for the Surviving The Stores Email Newsletter, Like STS on Facebook, and follow us on Twitter!