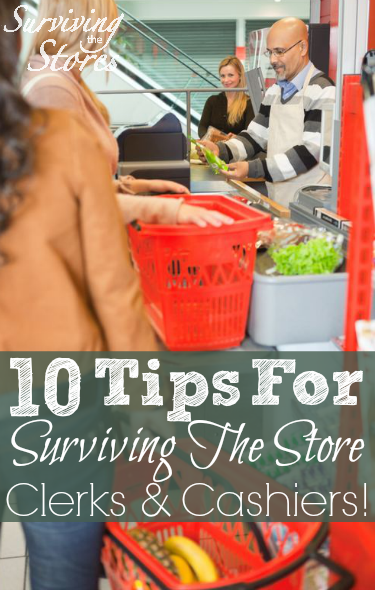 In our quest to survive the stores, we will inevitably run into problems in the checkout lane. Here are some tips to help you avoid some of those problems, and to help you know what to do if a problem arises.
1) SMILE!
I'm always amazed at how far a simple smile and a "how's it going?" gets me. Many times we get in the habit of treating cashiers and customer service representatives like they are robots instead of real people. You will have significantly fewer hassles if you think to yourself, "if I were trying to get this person to be my friend, how would I act?"
2) Treat others the way you would want to be treated
Of course, I can't take credit for this one, it was taught by Jesus in Matthew 7:12. 🙂 Put yourself in the clerk or cashier's shoes. How would you want the customers to talk to you? What would make you want to give a customer exceptional service? Did they give you great service? Tell them (and tell their manager too)!
3) Give them a choice!
If you have a complicated transaction at the store (as is often the case with those of us who use coupons) ask them what would be most convenient for them. It is human nature to want a choice, even if both choices are complicated or difficult. I often ask the cashier at grocery stores, "Would you prefer me to ring all of this up together or do separate transactions since I have a lot of coupons?" Now, I already know that they will typically say to ring it up all together and that the coupons will be no problem, but I find that it helps get them mentally prepared for what could be an otherwise annoying checkout.
4) Think about those in line behind you.
As a couponer, I feel that I have to be especially aware of this as couponing still has a negative stigma with some people. If I haven't already loaded all my groceries onto the counter, then I will let someone with just a few things go ahead of me. If I have already put my stuff on the counter then I will let those who come up in line behind me know that I will be using a lot of coupons and that it might take a little while. That way they can choose if they want to get into another line or wait it out.
5) Shop early!
The best time to shop is during the day on weekdays. There are fewer people at the store, you can sometimes get better deals (think: Manager Specials!), and the cashiers are typically in a much more relaxed and easygoing mood.
6) Be prepared.
Do whatever you can to make the check out process go smoothly. Get all of your coupons out ahead of time. It is especially irritating to cashiers and other customers to watch someone dig through all of their coupons when it's time to pay. I typically get the coupon for each item out of my coupon binder as I get that product from the shelf. It also helps to keep your receipts in a receipt organizer (preferably in your car) so that you always have the receipt handy if you need to return an item. I recommend filing them by month. You can eliminate many return hassles by just having your receipt!
7) Check your receipt before you leave.
We all make mistakes, including cashiers. If you catch a mistake during the checkout process, politely let them know. If you catch a mistake on your receipt after you check out, calmly head to customer service and explain to them what happened. They are typically more than happy to help those who are calm and polite (tip #1 and #2 apply here too!)
8 ) Be aware.
Be sure to be aware of the store's coupon policy. I highly recommend printing out a copy of a company's coupon policy from their website if they have one. That way if there is an issue you can (nicely) show them the rules from their site. If you cannot find the coupon policy for a particular store, then send them an email and ask if they can email it to you. Make sure to also be aware of a store's return policy. I recommend writing on your receipt, before you file it, how many days you have to return the items.
9) Don't be afraid!
If a serious problem arises, don't be afraid to ask to speak with the store manager (politely, of course!) Many times the cashier or clerk has no authority to fix the issue at hand, so don't get mad at them when things don't go the way you want them to. If the manager is unable to fix the problem, then call Corporate Customer Service. You might have to wait a little longer for the problem to be solved, but they can typically pull strings that those in the store can't.
10) Avoid!
Want to minimize your interaction with those in the checkout lane? Many stores have a "Self Check Out" lane where you scan your own item (and at some stores you can even scan your own coupons!) Also, there are some amazing deals that you can get online without setting foot into a store. We have an awesome database here on Surviving The Stores full of COUPON CODES for online stores to get free shipping or a % off your order. By combining these coupon codes with clearance items you can score a great deal too.
While there are some conflicts that are just completely unavoidable, and there are some people who, no matter how nice you are to them, are just rude, following these tips will help you avoid the majority of problematic situations. (And when nothing you do works, you can read my post on How To Deal With Couponing Discouragement.) 🙂