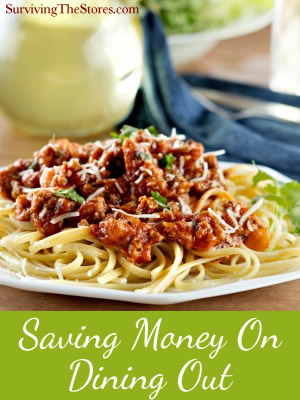 I got a question from a reader a couple of weeks ago that I thought would be good to answer here on the blog instead of just in an email!
Here's the gist of the question:
I'm going to be traveling to Pensacola for vacation this summer and I was wondering how to save money on eating out while we are there?
I know lots of you guys will be headed to cities other than your own this summer, and are looking to save money in all of the ways that you can.
Here are my top 5 ways to save money on going out to eat just about anywhere you will be traveling to!
Restaurant.com
Restaurant.com is a restaurant gift card site that offers discounted gift cards up to 80% off. The gift cards go on sale 70 – 80% off typically 1 – 2 times per month, and we make sure to post about it when they do.
You can always get a $25 Restaurant gift card for $10 on Restaurant.com, but during these sales you can get $25 restaurant gift cards for just $2-$3. You typically have to spend a minimum of $35 to be able to use the gift card (which would not be a problem for a family going on vacation). So that translates into a $35 meal for only $12 or $13 plus gratuity (which is usually a required 18%).
Groupon
Groupon is another great way to plan your restaurant visits well in advance and save a good amount off your check. The way to do it most effectively is to subscribe to the city you know you will be traveling to and check the daily email for any restaurant deals that you see that day.
If a deal looks good to you then you can follow the link provided by Groupon to the restaurant's website and see if the restaurant looks like a place you'd like to eat. Always make sure to check Google or any number of other online review sites to make sure the restaurant has good reviews (we've definitely learned this the hard way!)
Also, be sure to check the Groupon expiration date to make sure the voucher doesn't expire before you get there!
You can sign up for Groupon here: Groupon Sign-up Page
Restaurant Coupons Database
The Surviving The Stores Restaurant Coupons Database is a great way to find printable coupons for national restaurant chains in pretty much any city you will be traveling to. To find a coupon for a restaurant, go to the database page and if you see a logo for a restaurant then there's a printable coupon for it! Then click on the logo to view and print all of the coupons that are available for that restaurant.
With the restaurant coupons database, however, you cannot plan months in advance with it as many of the coupons expire within a couple of weeks or less of being posted. You will want to make sure to visit the database right before your trip to see what coupons are available.
Also, sometimes a restaurant will let you use the coupon if you pull it up on your smart phone, but you will want to call the restaurant ahead of time to make sure they will accept the coupon through your phone.
Other Local Group Buying Sites
I put Groupon in its own category above because it seems they have at least 1 new restaurant deal every day in most cities. But, there are lots of other daily deal sites that have great restaurant deals to from time to time.
Most daily deal sites that have restaurant deals will offer them for at least 50% off the regular price, so you could definitely save some big money here. I highly recommend looking at the menu of a restaurant online before buying a voucher because you don't want to get a $20 voucher to a restaurant where all of the entrees are $25 each! 🙂
You can go ahead and sign up for the Group Buying Sites for the city (or cities) that you will be traveling to.
Entertainment Books
We love having the Entertainment Book for here in Dallas, but did you know that you can get one for ANY major city? Most of the restaurant coupons in the Entertainment Book are for around 50% off, so the $15 you'll spend for the Entertainment Book is definitely worth it when you count up the cost of those meals!
Do you have any other tips for saving money eating out while on vacation? Please share them in the comments section below!